Posted by mike | Filed under Beer, Reviews
Irish-themed establishments and good beer tend to go hand-in-hand, so I'm always up for giving a new one a try. Having been to only some of Pittsburgh's Irish joints and having just survived another St Patrick's Day, the end of March seemed like as good a time as any to give a new one a try. Result: I invited the FoodBurgh Meetup members to join me at Molly Brannigan's.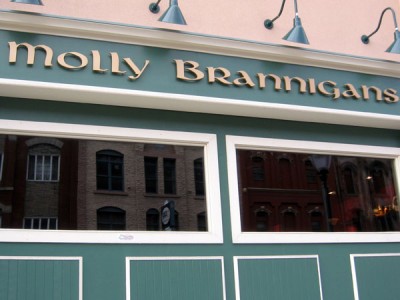 Molly Brannigan's
www.mollybrannigans.com
660 Washington Rd
Mt Lebanon, PA 15228
(412) 341-7827
Molly Brannigan's is a chain—local in scale but regional in dispersion. They have exactly three locations, but they're all spread out around Pennsylvania. The Pittsburgh location is in Mt Lebanon—right on Washington Rd, while the others are in Erie and Harrisburg. This was actually my first visit. Prior to a vew weeks ago, I had driven by a number of times but never really made my way out there. I honestly didn't know what to expect, but had moderately high hopes.
Big Irish-looking space—only newer. While zipping past on Washington Rd, you can see a name and know they're an Irish-themed pub, but it's hard to see much else. Having actually made my way inside, I should note the interior looks nicer than I expected. It's a big space with a rather high ceiling. A sign somewhere says the masonry was actually brought in in from Ireland, but they probably could have done just as well staying local. While tasteful, the whole decor looks too new and too clean cut to really remind me of Ireland. That's not a bad thing…just an observation.
Attentive, highly interactive server. Our waitress was excellent. From the time I showed up (somewhat late, but certainly not last to the table), she was both on top of our orders and willing to banter. This was an instance of very good waitstaff rapport. Based on comments from Meetup.com, it sounds like others in the group agree.
The 67% Irish-themed menu. Okay, so 67% is a guess; I didn't actually run any numbers. The full Molly B's menu is available online, so it's worth taking a look if you're on the fence. Based on menu content, the food feels like a bit of an American grill with Irish options interspersed throughout. That's not to say there's no Irish food, it's probably 67% of the menu. It's just funny to see plenty of options I don't tend to think of as Irish—notably a Santa Fe Salad and series of pasta dishes with an Alredo Sauce. Think of it like the "gringos" section of your favorite Mexican place.
Limited veggie options. The veggie options were a little sparse, but some could be found. The veggie wrap and roasted veggie boxty are probably the most notable options, though I went with a spinach salad and some (non-veg) seafood chowder. In retrospect, I'd be interested in giving the veggie wrap a try—though it seems decidedly un-Irish.
Traditional Salad. Okay, so it was the least exciting thing on the menu. I really felt like being health conscious for the evening, and with beets and hard boiled eggs, it did sound at least vaguely reminiscent of being Irish. The result was a worth salad by any measure, but not particularly noteworthy.
Here's what I found in the salad…
Fresh lettuce (mixed greens on top of iceberg)
Small cucumber dice (to small, if you ask me)
Beats, in 1/8″ slices
Halved grape tomatoes (with a surprisingly amount of flavor)
For dressing, I went with the house balsamic vinaigrette, but found that it was a little too oily without enough vinegar
Soup: actually a little spicy. In addition to the salad, I ordered a cup of Seafood Chowder. I tend to really like seafood stews/chowders (especially stews), and that gave me a chance to sample something beyond just my salad. Somewhat surprisingly, the seafood chowder actually packed a modest little bit of heat. You really could call it spicy. It certainly wasn't over the top, but it packed a larger punch than I anticipated—and I appreciate that. I would have liked to see a slightly chunkier chowder—more veggies, more shrimp, must stuff beyond just broth, but the flavor was excellent: a nice, well rounded heat with room for other flavors to coexist.
I often find that restaurants are driven to err on the side of avoiding food with much of a spice level. I suppose a complaint of "too spicy" is stronger than "not enough flavor." In the latter case, the customer might not even speak up and can certainly still eat his dinner. When a restaurant serves something that's more than a little warming, I think they deserve some respect for sticking to their guns. I have a similar rant about the inevitable growth of portion sizes, but I'll hold back.
From elsewhere around the table. Some of the other highlights going around the table were probably Colcannon (a side you really ought to order) and the Reuben Sandwich on Marble Rye (which looked awesome even to me). The Roasted Vegetable Boxty is notable in being availalbe, but doesn't being to compare with the Piper's Pub interpretation.
Beer wise, a bit of a mixed bag. Molly Brannigan's has some of the more notable craft beer on tap, two fairly surprising options, and a good mix of european imports. Still, the selection pales in comparison to a restaurant that really "does" craft beer. Basically, you'll find a beer you can be happy with, but the selection is sufficiently sparse that you might find not find exactly what you're looking for.
On the bright side, the two most notable craft beer options included Snow Melt Winter Warmer from East End, and Bell's Two Hearted Ale. Both are pretty "big" (high alcohol/calorie) beers, but that could actually make sense if you think of them as balancing out the comparatively smaller brews behind most of the other tap handles.
In general, I enjoyed my trip to Molly Brannigans. The waitstaff was excellent, and parking wasn't really all that bad—though they don't have a dedicated lot. Still, I couldn't help but feel like the restaurant leaned more in the direction of chain/family restaurant—if an Irish Pub can even take that form. The food certainly wasn't bad, but nobody in my group claimed it was particularly noteworthy either. At the same time, the Reuben across the table looked good even to someone who hasn't had a Reuben in 8 or so years. In the end, it really depends on what you order and what you're looking for.
Would I go back? If I was in the area, I probably would—but probably not until I've at least given a few other Washington Rd joints a try. Should you go? If you're in the area, I'd say they're at least worth a shot.
Tags: pittsburgh-south, regional-chain, worth-a-shot
2 Responses to "Review: Molly Brannigan's"
Leave a Reply