Posted by mike | Filed under Reviews
Dinette is one of those places that just about everyone has told me I need to hit up, but yet I knew very little about. Part of that is because they're in a part of town I don't frequent all that often (East Liberty), and part of that is because they're pretty well hidden even when I am in the area. Well, it's really kind of "hidden in plain view." The sit way up on the top level of the parking structure next to Whole Foods.
Anyway, sounds like a good destination for a FoodBurgh Meetup, right?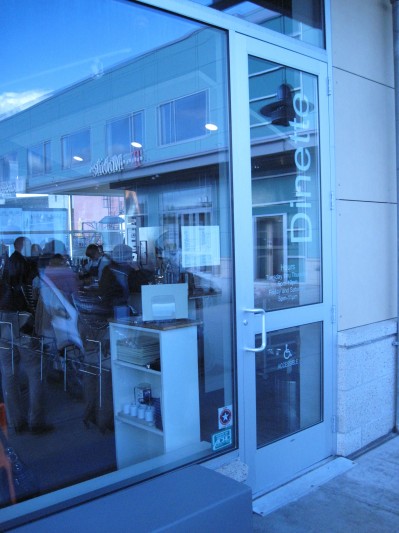 Dinette
www.dinette-pgh.com
5996 Penn Cir S
Pittsburgh, PA 15206
(412) 362-0202
I'll classify Dinette as kind of an upscale-ish, locally inspired pizza destination. Just don't read too much into the upscale: they're actually quite casual. China Millman called it "casual fine dining," and I'll wholeheartedly agree. You get all the quality and high expectations of fine dining, without a hint of stuffiness. Better yet, they seem to really deliver, which isn't always the case for straight up "fine dining." As appropriate for the local sourcing, the menu changes frequently (daily, in fact) but always features pizza with a spattering of Italian-themed appetizers and salads. They also sport a small but generally high quality beer list (all bottled) and what looks like a wine list of similar quality (actually,  probably better).
Clean, bright, tiny. The first thing to note about Dinette is that it's full of large windows. Add to that an uncluttered, modern look and a small open kitchen and you get a very inviting space. Though the wide windows help, the place is still tiny; there are serious limits to the number of people they can sustain at once. The good news: they hold an outdoor liquor license, so you can order a beer and hang out in front while you wait for a table. On the night we happened to go, that was a welcome opportunity for a beer while we let them find space for the group.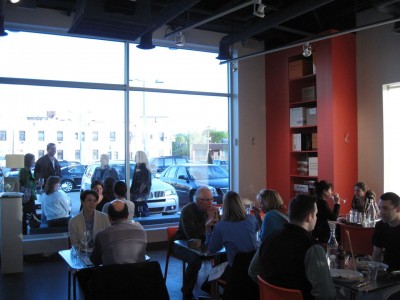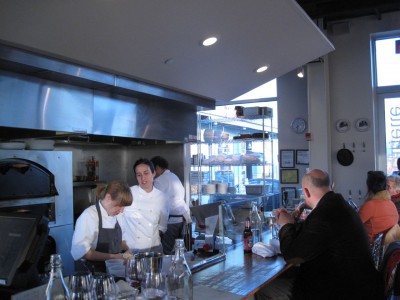 Beyond just accommodating. When I called to make plans for the Meetup outing, I was told they didn't take reservations. We were going on a week night, so the hope was that we'd be able to wing it and get a table without too much of a wait. That would have worked wonderfully if I didn't run up against my first ever 100% turnout (usually, I run 75%). We had a huge number of people sign up list, and no one dropping out at the last minute (which would have been more typical of our group).
The staff at Dinette reacted quite graciously to our size—splitting us in two and letting us crowd up both behind the bar and on a bench out front while we waited for a spot. The nice weather outside made the outside option that much better, but I seemed to move back and forth between the crowds more than just chill in one place. Basically, as long as we were patient, they were pleasant and accepting. I would normally feel far more guilty about inundating such a small place, but the staff at Dinette handled it so well that even I didn't feel all that bad.
The moving target menu. Because the menu changes daily, you really do have to check it the day you head out. You'll always find the same structure, but pizza toppings and salad definitions change just about every day. Chef (and owner) Sonja Finn seems to take great care in defining each 3-4 topping arrangement: they're really all interesting and somewhat lively combinations—though never with so many ingredients as to muddy the flavor profile. Some arrangements work on a veggie diet, others don't, but they're all fairly light and probably even reasonably healthy. I don't think I'd really feel guilty about eating anything on the menu—except maybe that fritto option in the appetizer's list that seems to appear in some form every night.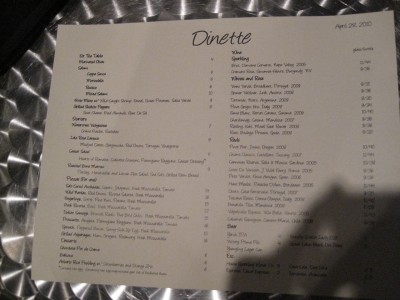 Art on a plate. Imagine a pizza with toppings gently placed into just the right pattern. When basil leaves appear, they're even carefully arranged in an outwardly radiating star. Other toppings are more coarsely distributed, but always seem to be well distributed and in exactly the right ratio. Basically, they're paying close attention to each pie. The pizzas come to the table basically as they come out of the oven—rather than all at once, and the staff encourages sharing of pizza as it arrives. In my loosely connected group, the sharing was somewhat limited but picked up at the end of the meal.
Don't re-configure the artwork. One menu aspect worth noting: substitutions run against the rules. It's not clearly whether that's an operational efficiency issue or just an "enjoy the art as it is" issue, but some in the group found it problematic. Personally, I'm all for it–regardless of the rational. If a restaurant chooses to construct a dish in a particular way, who am I as a consumer to tell them how it could have been better? You could argue that I'm right, but only on the grounds of being a customer–certainly not on the grounds of actually being right.
One the greener side. Because I'm me, I ordered a salad–thinking it might be more of a dinner salad than it was. Just like the pizza, the salad was nicely plated, though the lettuce pieces were large enough to require some careful knife work. As with the pizza, The salads come pre-defined: this time with an associated dressing (Green Goddess Dressing, in this case). That said, they gladly brought it on the side.
Beer: thinly spread but well selected. It's worth discussing drinks, though only briefly as that's really not the focus. The beer list included about 5 different bottled options that were surprisingly well distributed across different styles. I ordered Stoudt's Scarlett Lady (an American Brown Ale), though other options included Blackout Stout from Great Lakes (a Russian Imperial Stout) and a regional IPA (though which one completely eludes me right now…maybe Nugget Nectar?). It feels like the wine list deserves some treatment as well, but I honestly know very little about specific wineries. Anyone who cares should just look directly at the online list (updated daily, of course). Now if only they would publish a current beer list on a similar page.
You pretty much need to give it a try. From my perspective, just about everyone should try Dinette at least once: it's just a must-try kind of place. Some of my friends have called it a little pricey (and the City Paper agrees), but I think that price is well worth it. If I were to go again, I'd split a pizza with a friend and pair it with the garden salad of the evening. That combo without any drinks would run me about $16, so it's a few dollars more than a number of other casual establishments—though, in my opinion, that's a couple extra dollars well spent.
Tags: independent, must-try, pizza, sustainable, veggie-friendly
12 Responses to "Review: Dinette"
Leave a Reply