Posted by mike | Filed under Reviews
I think I have a new Pittsburgh favorite in the Juice Box Cafe. This is actually the tail of my queue—my most recent restaurant visit. I'm bumping it to the top of the order because they really deserve it. My backlogged posts tend to go up in priority order anyway.
There's a funny story in this one: I was so intent on showing it in the right light that I went twice. As I arrived for my first post, I noticed a smudge on my camera lens. Despite my best effort to clean it off there, the photos were horrible. With a trusty Cue-Tip™ and a dab of a laptop display cleaner, I cleaned off the lens. A week later, I went back. Turns out, one of the girls running the show was feeling a little self-conscious about my first trip anyway: it seems she left the tomato out of my greek salad. For at least three different reasons, I'd say it's good I went back.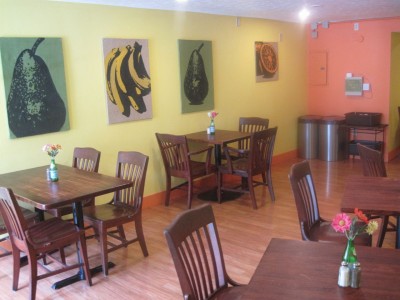 The Juice Box Cafe
www.juiceboxpitt.com
735 Copeland
Pittsburgh, PA 15232
(412) 802-7070
Located in Shadyside in the same little cove as Mercurio's and Girasole, Juice Box Cafe is definitely a new Shadyside addition: they just opened in April 2010. You'll find them in the hard-to-spot lowest level of the cove, but they certainly don't seem to have any trouble getting the word out. They've already made the pages of the City Paper, Post Gazette, and Pop City—plus mention in at least one other local blog. Also worth noting, the person behind their marketing arm (Sarah) is rocking it on Twitter the right way by really participating in the conversation (though it's clear she does most of her Twitter processing after Juice Box closes in the late afternoon).
I usually try to avoid writing up places that just about everyone else is already posting about, but really…I couldn't skip this one.
The theme can only be summarized as healthy eating. They specialize in salads, panini and fresh-squeezed juice, with one of the most veggie-friendly and health-conscious menus in Pittsburgh. Half the menu being veggie-friendly and the other half promises to swap meat for tofu upon request. According to a rather inspiring pre-opening post on their blog, half the employees are vegetarians, and they've made it their goal to provide decent benefits for their employees. That post is definitely worth reading if it sounds like your kind of place.
Bright colors, changing artwork. Despite being buried underground, Juice Box seems to have a large space that they brighten up effectively with brightly colored walls. To lining the walls, they've chosen to follow the example of Square Cafe and 61C with artwork from local artists. The notable difference at Juice Box: they're replacing every last piece about once a month. It's unclear if they'll keep the source within a small group of artists or try to move all over the place. This month, they're hosting a series from James Schaffer.
Keeping it healthy: wraps, panini. salads, and…juice. When I pick up a menu, I start by looking for something that catches my eye as particular exciting. Depending on my mood, I might go wild and let go of Calorie counting, but I'm more likely to glance through again for all the somewhat healthy (and typically vegetarian) options. Depending on my mood, I'll pick something from one of those sweeps. With Juice Box, my life is easy. Just about everything on the menu is at least reasonably healthy. Some items are better than others, but healthy eating is really their goal. There's a great post on their blog with a bit of a mission statement. It's worth a read.
You can look though the menu on your own, but I'll call attention to a few items that catch my interest. First off, there's a prominent photo of the Garden Salad on the web site. It's beautiful and everything I would want in a salad—not your average garden salad. The Mediterranean Salad is a little bit lighter and catches my interest. It's probably the most lightweight of their salads…for those who aren't incredibly hungry (like me on my first visit). Another eye-catcher: the Smoked Tofu and Curry Salad. The Panini and remaining wraps are pretty self explanatory other than a brief comment on the tofu option: it exists. Any non-veg item on the menu can be magically made without meat by substituting tofu.
First trip: Mediterranean Salad (sans Tomato…and dressing). The toppings on this one include artichokes, hearts of palm, olives, cucumber, feta cheese…and typically tomatoes…all over top green leaf lettuce. On this trip, I watched them hand-washing the fresh lettuce—which was all bright green and bright green all the way through. I would say the ingredients were all top notch, and the acidity of the toppings made it almost unnecessary to use any dressing. Almost, in this case, was the problem. I'm typically a big advocate of little to no dressing over a salad, especially one with some exciting and flavorful veggie toppings. In this case, it would have been nice to have a splash of olive oil coating the lettuce. Based on watching salad prep at Enrico's, I've actually started to do exactly that in salads I make at home: spritz the lettuce with a bit of good olive oil, then toss with a pinch of salad and pepper before moving forward. I certainly don't fault them for missing the tomatoes, but that might have added enough extra flavor to render any oil unnecessary.
Second trip: Amazing Garden Salad. It seems this was the salad I should have ordered from teh get-go: it's basically my ideal salad preparation. With avocado, carrot, red ionion, tomato, broccoli, red pepper, sunflower seeds, chick peas and cilantro all riding atop green leaf lettuce. I tasted a faint hint of some type of dressing or extra topping that I suspect might be either soy sauce or a soy sauce based dressing. Whatever it was, it added an great (but still subtle) touch. It even took me a little while to figure out what it was.
A complaint: smaller bites or a knife…please. My biggest (and probably only) complaint with Juice Box cafe is over the large pieces I found in both salads. On both visits, I thought the lettuce pieces were ever so slightly too big. Lacking a knife, there were a few bites for which I felt a little silly shoving into my mouth. The problem could easily be resolved with smaller pieces in the salad and/or a knife in addition to the fork that they stick in your salad bowl. I really hope they pick up one or the other. The knife option is probably more flexible (and therefore preferable).
On juice: don't write it off. I try to avoid smoothies, shakes, and juice-based drinks at most establishments. I'd rather pick up my daily calories from food (and, well, beer). Except, that's almost not necessary at Juice Box. They have a juicer behind the counter, and many of the juice options include just as much vegetable as fruit—I'm guessing they never add sugar, either. Plus, they offer a 12 ounce serving that's probably pretty low-cal. On my second visit, I tried the slice of life with no ice (to maximize flavor) and really enjoyed it. Even if you're a health nut, be sure to at least glance over the list. I recommend focusing on juice before smoothies.
A final take: I love Juice Box Cafe. This one is definitely a must try (for the health not). Though they are open for dinner, it has the feel of lunch stop, so there's no beer too be found. That's just what they are. With that caveats aside, it's exactly my kind of place. If you're looking for a healthy lunch or dinner in Shadyside, you owe it to yourself to give it a try. If you identify at all with the tastes I lean toward in this blog, then you'll probably love the place just as much as I do.
Tags: healthy-win, independent, must-try, newcomer, shadyside, sustainable, veggie-friendly
8 Responses to "Review: Juice Box Cafe"
Leave a Reply