Posted by mike | Filed under Reviews
Not all that long ago, Mr. Willies Barbecue closed its doors (and, in retrospect, foreshadowed the closure of Kazansky's). Willies never seemed to really pull together something that got people excited, and eventually shuttered—and, yes, the missing apostrophe bothers me too. Whenever a restaurant closes like that, I see opportunity: I see it as a chance for someone new and different to try their own luck. Maybe I'm just way too optimistic it worked out in this case: it didn't take too long at all for a new place to show up. A few weeks back, signs went up in the vacant Mr. Willie's space—covering up the refinements inside. As of last week, Sababa Middle Eastern Grill had opened.
I'll be honest, I didn't know what to expect when I first noticed ongoing work behind paper-covered windows. When a vinyl sign replaced the window's paper, the sign and seemed a little to nice—like it had come out of an actual marketing department. It was just "too professional" to be an independent place. That, of course, triggered concern: what if all that filled the space was a boring chain? Then last week, I received a glowing report from a FoodBurgh reader. Not only was Sababa's open but they reportedly served up some of the best Falafel in the 'Burgh. That push renewed my interest and inspired a walk over that way. Thanks Melanie!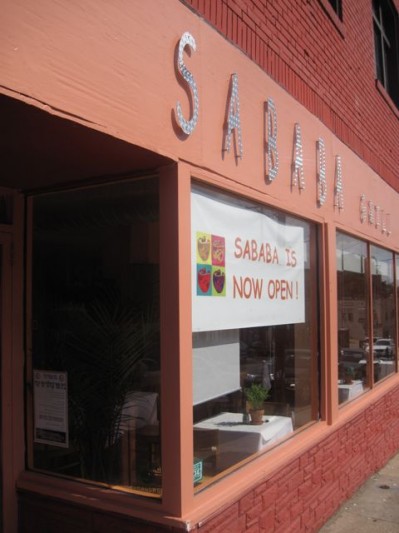 Sababa's Middle Eastern Grill
www.sababapgh.com
2121 Murray Ave
Pittsburgh, PA 15217
(412) 422-8000
Contrary to my fears, Sababa's is an entirely family owned Middle Eastern restaurant—not some big chain. From a brief chat with the family-members behind the counter, it sounds like bringing their take on Middle Eastern cuisine to Pittsburgh has been a family dream for some time. When Mr. Willies closed and the space opened up, they went for it. As far as I know, they opened for business in early June.
In an after dinner conversation with the owner owner/founder/chef, I was told that the new restaurants style leans toward a more Turkish/Syrian take on cuisine. He explained that category as a contrast to the Lebanese stylings of Aladdins. I should have probed further to get a read on where that category falls relative to Taza 21 or Mediterranean Grill, but I didn't. Regardless of the stylistic trend, I'm glad to see a new place pop up. It seems to have its own niche—similar to Aladins in terms of setting but serving up a different take on Middle Eastern cuisine.
Similar layout with herby accents. If you remember the layout in Mr. Willies, then you already know the general structure of the restaurant. A prep counter sits opposite the entrance with a big open space for tables everywhere else (some near the front window, and some in a pocket near the back). Maintaining similar layout doesn't mean the new place resembles the old: the look has been polished up quite a bit. A nice sign near the entrance explains the meaning of "sababa," and potted herb centerpieces sit on every single table. The tables themselves are covered first with white, cloth tablecloths and then with large sheets of white butcher paper (much like Avenue B). In general, I can't say I'm a fan of the white tablecloth look, but the feel at Sababas is sufficiently laid back to feel be comfortable regardless. Besides, those well-trimmed, deeply green potted herbs—they make quite an impact agains the white.
The display counter is huge but filled with only a single layer of pre-made dishes. I believe it's the same counter from Mr. Willies, but actually fits in the redecorated Sababa fairly well. This time around, the food in the diplay counter looks far more exciting, but the sparse single layer of bowls makes the food seem tiny and limited. That's quite unfortunate but true. Despite the better-looking food below the glass, the single layer makes it look somewhat empty (which was actually a problem at Mr. Willies as well). Plus, it's almost too big a counter to fit the space, but it's a nice piece an would have been a shame to get rid of. I just worry that it gives the impression of an ordering station. For dine-in guests, I'm not sure that's what they want to present.
Highly focussed but veggie-friendly menu. The tri-fold paper menu is pretty simple: appetizers (mostly vegetarian), vegetarian dishes, and main courses (mostly grilled meat). The appetizers all sounded familiar—with the exception of an roasted eggplant salad dressed in tomato-sauce (which has since been recommended by friends). The vegetarian entrees are a little more interesting—most notably the Shakshuka, which I should probably order next time I go. In general, the menu is tiny—miniscule in comparison to, say, Alladins, but the reduced footprint is okay. It's probably better to start small, nail down the basics, and then branch out. I'm just hoping we'll see a few more options as they find their footing.
Proudly encouraging BYOB. As is common for a family owned upstart, they don't have a liquor license. They do, however, seem to fully embrace BYOB: it's clearly promoted on their front door. It's clear that you're more than welcome to bring your own wine or beer. For a group outing, I'm a big fan of bringing along a growler from East End. Actually, a growler of Penn Gold might go even petter with the cuisine.
For lunch, a salad (of course). After some internal debate, I order a Sababa Salad. That's was at least partially motivated by having walked over on a hot and humid day: I didn't feel up to a hot lunch. Of course, the primary concern with ordering a salad is really that it might not be a good representative of the place. In this case, that didn't prove to be a problem at all. The presentation was beautiful, and the flavors balanced one another quite well. It came pre-dressed, but very lightly so.
Topping the salad, I found avocado, thinly sliced tomato, navy beans, hard-boiled egg and hearts of palm—all over top a nice be of field greens. The salad came pre-dressed with a house-made lime dressing and sprinkled over with flaked sea salt. The salt balanced out any sweetness that might have otherwise come from the lime, but it managed to come across just a tad too strong. If it were my call, I'd opt for just a little bit less of the sea salt—though the potency was primarily concentrated on the first several bites.
For take-out, some couscous. I couldn't handle writing about the place after experiencing only a bit of an outlier from the menu, so I ordered something else on my way out: the Morocan Couscous. I carried that dish home in a Mad-Mex style tin tray and pulled part of it out for dinner. The format on this one was actually a little surprising: roasted root vegetables served over top flavorful couscous. Given that couscous is really just tiny pieces of pasta, that seems like a hugely starch-oriented dish.
For the sake of balance alone, I would have liked to see it paired with a salad or some greens, but it was quite flavorful for what it was. I detected loads of roasted garlic flavor, but there was some additional depth that I couldn't quite place. Turmeric, perhaps? And, for the record: I did pair my take-home with some greens.
To close: Complementary turkish Coffee. As I paid my check, my server brought out a tiny cup of complementary Turkish coffee (I'll call it espresso—or very nearly so—with subtle spicy notes). I'm a fan of coffee, so this was very much an enjoyable treat—though I was trying not to fumble too much with my camera and ended up with 3 or 4 different lousy shots. Sorry.
For next time: Shaksuka or possibly Falafel. Melanie (the reader who pushed me to give Sababa a try) had great things to say about the Falafel. I've had far too much mediocre falafel in Pittsburgh (and even some that pulled out of a freezer and reheated), so I'm looking forward to trying the Sababa interpretation. And that Shaksuka, it just sounds interesting—and right up my ally.
Overall, a big win for the neighborhood. Sababa is definitely the kind of place that I like to support: something different and even unique brought to the 'Burgh by an inspired family. The new place is also fairly vegetarian friendly—though I'd like to see a slightly larger menu over time (and not just the veggie section). They may still working out a few kinks but seem to have all the basics down cold and the enthusiasm to keep pushing. If you're looking for Middle Eastern in Squirrel Hill, it's definitely worth a try! If you like supporting Pittsburgh's local businesses, well then you better just get yourself over that that way.
Tags: byob, healthy-win, independent, squirrel-hill, veggie-friendly, worth-a-shot
11 Responses to "Review: Sababa Grill"
Leave a Reply