Posted by mike | Filed under Beer, Reviews
People like me, who pay attention to good beer, have been eagerly awaiting the latest addition to the local beer scene: a downtown location of the Sharp Edge—prettymuch the defacto establishment for Belgian beer in Pittsburgh. Last month, the eagerly awaited new location opened its doors. Not to much later, I managed to drag a friend from work over there on a Friday after work.
It's been a few (busy) weeks, but I'll take a stab at writing down some of my thoughts. Consider this post a starting point. I tend to be biased against the food at any Sharp Edge just because they lack much in the way of healthy options or veggie-centric dishes. The new place has some new options, but I still had a somewhat negative food experience in this trip. My hope (and expectation) is that I can write that off to the new kitchen still finding it's way. A trip back will likely be a better indicator.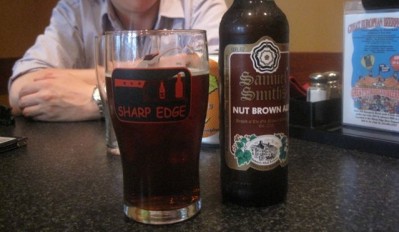 The Sharp Edge Bistro on Penn
www.sharpedgebeer.com
922 Penn Avenue
Pittsburgh, PA 15222
412-338-2437
For anyone who doesn't follow the local beer scene, The Sharp Edge now has 5 locations throughout the city. Long before interest in craft beer really started to explode, The Sharp Edge was serving up a huge variety of hard-to-come-by Belgian beers—starting from their original location in East Liberty, the "Beer Emporium." The menu very much follows suit: plenty of Belgian-inspired dishes along side some individually prepared pizzas that I'm told are quite a hit (and half price during happy hour). Also half price during happy hour: Belgian Drafts. If you can show up before 6:30, you probably won't be disappointed.
Two categories, one beer market. Now let me back up a bit: "rare imported Belgians" is very much distinct from "American Craft Beer," but they capture a very similar spirit (and almost the same market). Starting not too long ago, the two scenes even started to merge as craft brewers grew an interest in playing with Belgian styles and even cooperating with Belgian brewers. The Sharp Edge own Over the Edge, contracted through a Belgian brewer is evidence of that cross pollination: a Belgian IPA.
Fits right in with Penn Ave. The most striking aspect of the new setting is the fact that it melds in quite well in a row of somewhat upscale establishments in the cultural district. I've read that the downtown location most closely resembles the Bistro in Sewickley, which is also supposed to be a higher end place. In this case, their Penn Avenue neighbors include the likes of Nine on Nine, Sonoma Grille, and Seviche—all on the up-scale side of the fence. I tend to think of any Sharp Edge as far more approachable than any of those; if you ignore the rather expensive beer, the new location lists prices in line with other Sharp Edge locations—probably less than their Penn Avenue neighbors.
Key to fitting in is clearly the enormous array of windows in front, which shows off an inviting sitting area beside the bar. On the Friday evening I stopped by, there was little chance of finding a spot on the couch or up at the bar, but I've been told (and would have to expect) that's not always the case. I hear that a little earlier on Friday (4pm) and even on week nights, it's not very hard to find a spot at either.
Impressive bar area. In comparison to other locations, the bar area was quite impressive—more so than the section of the dining area that I sat in. Several clusters of 5-tap fixture were spread out evenly across the whole bar area with a backdrop containing both a visual bottle list and (faux?) brick backdrop. With plenty of space behind for the bar tenders and wait staff and a dark marble countertop, the whole thing looked quite impressive.
Familiar dining area. The dining area had a completely different feel from the bar. In fact, it reminds me a lot of some of the other new-ish Sharp Edge locations—Brasserie being a good example. Separated by a partial wall, the dining is clean with orderly tables (and plenty of space between). With nearly half the width of the restaurant dedicated to the bar, the downtown dining area seemed a little bit "thin" but not really small. The separator between dining room and bar actually did that did a pretty good job of isolating noise.
Some (new?) veggie-friendly salads. In terms of the menu, I had heard about a new menu for the new location—one that will possibly be pushed out to the remaining locations. I'd say the format looked completely different, but the contents were somewhat familiar. In their defense, The salad section did seem to see more revisions and even included many veggie-friendly options. There's even a portobello option on the "deluxe salad," which I don't recall from the previous menu. Other veggie-friendly salad options: House, Field Greens, Spinach, and The Edge Stack Salad. Of those, I seem to remember only the house and spinach option. The others may or may not be new.
A disappointing but optimistic look at the food. Despite the new salad options, I wanted to avoid actually try something more typical of the typical Sharp Edge fare: I went with a panini/soup combo. The panini: a grilled veggie option that has actually existed for a while; the soup: a crab chowder that happened to be in rotation that night. Unfortunately, I wasn't very thrilled with either.
The Panini. The panini wasn't really what I was looking for. The flavor was good, but the quantity of veggies within was relatively small. I would have liked to see more. The goat cheese could have been a nice touch with a lighter hand, but it was oozing and dripping like crazy while I tried to eat. Personally, I think goat cheese should have a texture, so heating to the point of melting (though easy), isn't what I would want. Beyond that, it was far too much cheese to be considered a light option (which I always hope the veggie options can turn out to be).
The crab chowder. First, be warned that this particular chowder included bacon. I have no problem with that, but some probably might. Beyond the bacon, the crab chowder looked like a pretty good cup of soup: plenty of texture from a fairly dense treatment of crab and a decent mix of potato and corn to complement. The only problem I ran into is something that was fairly easy to correct (and I'm guessing they will): it was tremendously salty. It was really so salty that I ended up leaving most of it behind, which was a shame. I'm hoping I can write that experience off with the fact that they had only opened up that week.
Burger form across the table. My friend across the table ordered a buffalo burger, which has always been a favorite of several friends. It looked to me like a solid burger, and he confirmed that it was indeed quite good. He was even a little surprised by my own somewhat negative experience. From what I've heard, the burger option is always a good choice after the appetizer specials end and pizza is no longer a cheap option.
A typical Sharp Edge beer list. In terms of beer, there's not much to say. The selection is very similar to any existing Sharp Edge: plenty of imported Belgian drafts along side a handful of american craft beers and an enormous bottle selection. It's a great place for imports, but can sometimes be hard to find a more sessionable option: there are plenty of ABV's floating around throughout the list.
Cautious optimism. Despite the fact that I didn't have much success with the food, I have pretty high hopes for the downtown Sharp Edge. I'm a big supporter of re-vitalizing the downtown area, and it seems that a Sharp Edge entrant could entice an audience that otherwise might not spend time downtown. Downtown is really hurting for a good beer destination. With the Market Street Ale House long since gone (and replaced by a less beer-focused Las Velas), there's really wasn't a notable beer option anywhere downtown. The Sharp Edge is a good beer option and then some, and I'll definitely be heading back to give the food another try.
Tags: downtown, non-veg-meal, regional-chain, veggie-okay, worth-a-shot
5 Responses to "Early Notes: Sharp Edge Downtown"
Leave a Reply