Posted by mike | Filed under Reviews
At some point, Jeff Bearer (of Craft Beer Radio fame) started suggesting I try out Stoke's Grill down on McKnight. It didn't take too much explanation for me ot become interested, and in the past few weeks, I've made my way over there—twice. For me, it's roughly on the way between work and home, so it's fairly easy to stop by on my way.
Though you can find a veggie option or two, the pickings on that side of the menu are somewhat slim. That drove me to drop my veggie-leaning goal on both visits. The first trip was marred in failure—mostly because I avoided the sandwiches and went for a salad. For the second trip, I corrected myself and was quite pleased.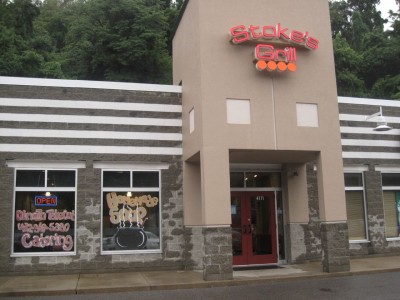 Stoke's Grill (West View)
www.stokesgrill.net
4771 McKnight Rd
Pittsburgh, PA 15237
(412) 369-5380
Like most establishments on McKnight, Stoke's is in a strip mall. They're actually right next door to the North Hills instance of El Campesino—down in the southern section of McKnight. The City Paper review calls them a sandwich shop, but I don't really think that does them justice. Between the BYOB option and deeply independent status, I think they fall into a slightly different category—though it's hard to think of a good label. On the other hand, they do put considerable thought in their sandwiches and even avoid the sandwich shop tendency to go overboard on portioning. Basically, I'm a somewhat hesitant fan of the place.
The mixed bag of the strip mall. Despite the often negative perception, that strip mall location does give them the benefit of easy parking and an un-cramped space; they even do a good job of keeping the interior interesting. The walls all get a treatment of alternating dark and light greens behind a spattering of some visually interesting (though eclectic) artwork. That keeps the setting interesting and helps establish their own look. The look actually reminds me of a Juice Box Cafe with higher ceilings.
The dining area is constrained to a single room with booths along the walls, smaller tables on the interior, and a single large-ish round table squeezed somewhere in there near the register. The first time I went (a Friday after work), the round table was completely filled with a dinner group taking full advantage of the BYOB. Even on my second visit (a Wednesday), another group took the larger table (though not quite filling it). Despite the groups on each visit, it was still easy to find a place to sit—though I suspect lunch might be a different story.
Standard menu with some notable additions. The menu hits on everything you might expect: focussing on sandwiches and wraps but quickly expanding outward to include salads, soups, pretzel sandwiches, and even quesadillas. The soup list is always in motion but was notable in it's length and diversity—especially given the claim that soups are made daily.
When fried food catches my attention. Though they didn't catch my eye on either visit, the City Paper's comments on fries caught my attention. They're far from a healthy option, but I'd definitely share the green (pesto/artichoke/brie!) fries with a friend or two.
Again, not very healthy, but on my second visit they mistakenly tried to deliver an order of the Flaming Zúcs to my table. The Stoke's preparation gave a renewed fresh look to an often tired and boring dish. I really wish I had a photo of the lightly breaded rounds from a small (and likely tasty) zucchini. If someone twisted my arm, I might share an order of that as well.
At first glance, not so veggie friendly. The biggest problem with Stokes is the apparent disregard for the veggie crowd. The only vegetarian salads: Caesar and a large dinner salad. The only vegetarian wrap: the Elmer. That said, they do have a build-your-own sandwich option and a vegetarian quesadilla. Plus, I only recently noticed an option to convert sandwiches into salads (for an extra $1.50). It seems the so-so stance on veggies is a little better than it first appears—though another vegetarian specialty sandwich could dramatically improve that appearance.
On my first visit, I was afraid the sandwiches and wraps might be huge and overwhelmed with cheese and meat, but I clearly didn't give Stoke's enough credit. On my second trip, I corrected my course by trying a wrap.
Testing the water: large side salad and a cup of chili. I have no one to blame on this visit but myself. I showed up, interested enough to give the place a shot but feeling like being healthy. The lack of interesting vegetarian salads drove me to the large side salad—which had some positive notes (crisp lettuce and a nice house dressing), but lacked much of anything on top: some carrot peals, red onion, and a sparse sprinkle of diced tomato—and some big homemade croutons. For a salad, I would have definitely liked to see more lettuce (and more stuff on top!), but I think this might have been an issue limited to the dinner salad. I saw a Chef Salad go by that looked pretty good.
Ironically, the chili was decidedly non-veg—though it felt necessary given the light salad. Stoke's actually serves up a fairly large list of soups all prepared in-house and hitting on a variety of different styles. The chili was a pretty good rendition of a particular chili type: ground beef tempered with tomato and beans. You can't tell from the photo, but the balance of beans to meat is actually fairly decent. With a thin sprinkle of cheese and a nice medium-spicy bite, it was actually pretty good. On that basis, I suspect their other soups are worth trying as well.
Going for it: the Lucas Wrap. For my second trip, I felt a little more exploratory. The vegetarian wrap option (The Elmer) didn't spark any enthusiasm so I went non-veg again with a Lucas Wrap. This one includes chicken, lettuce, salsa, and roasted red pepper and was served in just the right portion size. Even with the lettuce in place, it appeared in tight little rolls with a nice balance of veggie to meat. The Lucas also packed a surprising amount of flavor with minimal sloppiness.
I only ate half that night but only because I wasn't all that hungry. Really, the full potion size felt just right. It wasn't huge, but felt in control. I might have even eaten the whole thing without feeling too guilty (okay, maybe a little bit). Overall, the wrap was a surprisingly good meal and I suspect far more indicative of Stoke's Grill.
I have mixed feelings about Stoke's Grill. They fall into the category of being exactly the kind of place I'd love to support but just not serving the kind of food I normally eat. I enjoyed some of the food, and I love the BYOB option, and I could have ranted for a full paragraph how exciting it was to get a Diet A&W when I wasn't planning on a beer. That places it squarely into the category of worth a shot, but not a must try from the FoodBurgh perspective.
Tags: byob, pittsburgh-north, veggie-okay, worth-a-shot
5 Responses to "Review: Stoke's Grill"
Leave a Reply