Posted by mike | Filed under Beer, Reviews
Before anything else, I should note (as I will highlight below), that I didn't pay for my food or drink on this visit. I received an email from one of the Tavern 245 employees and was invited to stop by and give them a try. I did just that and was quite impressed. It's a Tavern, so it's clearly not the healthiest food around, but there was something moderately healthy to be had. They don't have a huge number of veggie options listed on the menu, but they were more than willing to kick out veggie versions upon request. If you eat fish/shellfish (like I do), then you shouldn't have much trouble at all.
Having just recently opened, there's very little out in the way of reviews, so I'll see what I can do about fully documenting the place. The most I've seen is a quick write-up from Bob Batz. If you want to try yourself, the Beer Meetup is making their way out at the end of the month (August 2010).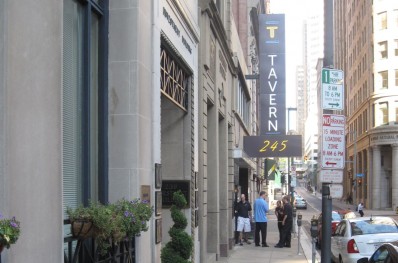 NOTE: I didn't pay for this meal. I was invited by Tavern 245 to sample their menu, and stopped by to do just that and discuss the restaurant with their lead PR person and a few other employees. Of course, everything in this post is my own opinion. I just think it's important to disclose that kind of detail.
Tavern 245 ($$)
www.tavern245.com
245 Fourth Ave
Pittsburgh, PA 15222
(412) 281-4345
You can find Tavern 245 on 4th Avenue—right near PPG Place and Market Square. I'm not familiar with that area, so I wandered a little bit, but once I turned onto 4th, it was hard to miss: they spared no expense in a massive 3-dimensional sign hanging over the front door. The restaurant just opened within the past few weeks (July 2010), and, true to the name, it's a Pub/Tavern—though more of an upscale casual one. Despite the up-scale feel, the menu's focus on pub fare (sandwiches, burgers, and various small plates) keeps the prices more than reasonable.
Oh, and the beer list: it's definitely impressive. They certainly don't qualify as a "beer destination" but they serve up enough craft beer options to draw me in any time.
Downstairs bar. Upstairs lounge. When you first walk in the door, you're presented with two choices: head upstairs or open the door to the downstairs bar. Choose wisely: in almost all cases, you probably want to go up, which will take you to the main bar/dining room. The primary use case for the downstairs bar seems to be smoking. The space is separately ventilated, so they're able to open it up to smokers. The beer list down there leans away from craft beer options—with the possible exception of Sam Adams, though the setup is still just as "loungy" as the space upstairs.
If you choose the upstairs destination (and you should), you'll find a fairly large space with a mid-sized bar, a few different clusters of small tables, some booths, and multiple lounge areas—complete with couches and flat screens. Beyond the bar, a final cluster of tables gets a view out a large window opening up to 4th Avenue. Besides the light coming in off the street, the dining room is fairly dim with just a few small lamps scattered throughout. It actually feels kind of like a stylish living room with a few pockets of artifacts sitting out on end tables and hanging on the walls.
The staff: laid back and talkative. Even before I stepped into the restaurant, I bumped into the manager and co-owner, Chip hanging outside with a few members of the staff. We exchanged introductions fairly quickly before he showed me in and let me glance over the downstairs bar. I don't even think he was out there intending to show me in—my primary contact was still waiting for me upstairs. In any case, that same friendly/talkative vibe seemed to flow from just about every employee I bumped into. Significantly, every last person I talked to exposed how much they enjoyed working for Chip—from the wait staff to the executive chef. That kind of detail is important when I decide which restaurants I like to support and visit. A positive work environment makes me appreciate any place just a little bit more.
It's a tavern, and the menu follows. The menu is brief. It's also available in full online (also, in PDF). A skim through reveals some familiar pub fair—focussed on appetizers, sandwiches, and burgers. Thankfully, they throw a few salads in to top it off. They'll also serve any sandwich as a wrap.
Veggie options (good ones) by request. I'll be honest, it's not the most veggie-friendly menu in the world. My contact person, Jenn even admitted a little concern when I warned her in an email message about my veggie/healthy leanings. If you consume fish, then it's not to hard to find something. That task gets a little more challenging for straight vegetarians, but they didn't have any trouble whipping out a veggie filling for their 4th Street Tacos. I've you're a full-on vegan, well…you're prettymuch lost (and they'll admit it).
Because the whole point was to let me try the place, they let me try a bunch of different menu items. Basically, I sat down with Jenn and ordered some combination of items that caught my attention and her suggestions. I'll walk through each item separately below.
First, my favorite: 4th Avenue Tacos. These were perhaps my favorite. Served on little corn tortillas from Reyna's, the menu offers three different fillings (shrimp/chicken/beef) but Jenn was quick to point out an undocumented 4th: vegetarian. I tried shrimp and veggie and had a bite of chicken. The veggies were my definite favorite, so it's definitely worth asking for.
Next, something different: Smoked Chipotle Hummus. Served with pita chips, this definitely wins the award for the most unique hummus flavor I've enjoyed. With mixed in tomatoes, the dip has a rather untraditional texture. The flavor lays down a unique tone as well: smokey up front with a chipotle heat that swoops in from behind. With a level of spice that jumped beyond my expectation for an unassuming appetizer, this was definitely worth sampling.
While I'm on dips, the Guacamole 245. Not much to say here, other than the dip being served at a soothing cool temperature and offering a pleasing contrast with the hummus's heat. I prefer the hummus, but this was definitely a hand-made guac that I'm told used juice from both lemon and lime to give it a little depth of flavor. If you're into the avacado standard, you'll most likely enjoy.
The main event: a Salmon Burger (in wrap form). After a beer and a few bites of various appetizers, I was already satiated but moved on to sample a bit of the day's special: a salmon burger transformed to embrace 245's wrap option. A house-prepared salmon patty lightly breaded and wrapped up with lettuce/tomato/onion and a dash of mayo. Yeah, I felt a little guilty about the mayo, but this one was packed with flavor. To me, that's a big vote of confidence for the wrap option.
Because I had to try a salad: the House Salad. There's a reason I tend to order salads. It's one of my favorite dinner options. You might say I'm on a quest for all the good salads in Pittsburgh. In the side salad category, this was definitely a good one. Simple, yes; finely chopped, yes. It featured tiny pieces of leaf lettuce, cucumber, tomato and red onion—all topped with a somewhat overdone handful of grated parmesan. With the mound of grated cheese, the balsamic vinaigrette was hardly even necessary (though made in house, like all of 245's dressings). It would have been a touch more exciting with a few thin peels of hard parmesan, but that's likely cost prohibitive.
Not a beer destination, but worth visiting. With the downtown Sharp Edge not too far away, this is hardly a local beer destination. That said, the strong focus on craft brews and quality recommendations from the bar tender, I can't imagine not being pleased with their selection. In a part of town where many destinations focus on wine and toss out just one or two craft beer options, Tavern 245 almost stands out. They could definitely fill up Downtown's Market Street Ale House gap.
Worth heading downtown for. Having been comped a meal, you won't really trust my opinion; I know that. I will say that I liked the place. They serve up a casual atmosphere, friendly staff. and a menu that I could enjoy. You might have to work at trying to be a little healthy and put in special requests to stick to a vegetarian diet, but I'd definitely go back. With their late hours, I'd even make a trip downtown for them. I'd say this one is definitely worth a try (though leaning on must-try since it's brand new).
Tags: downtown, freebie, good-beer, non-veggie-outing, veggie-okay, worth-a-shot
4 Responses to "Review: Tavern 245"
Leave a Reply