Posted by mike | Filed under Reviews
A few weekends back, I made my way out to a destination I'd been eyeing up for a while: Reyna's Taco Shack. If you've been in The Strip in the past, you might remember varying extents of food stands hanging out in front of Reyna Foods. If my sources are correct, then the current iteration is different—a step up from the salsa and chips you might have found in the past.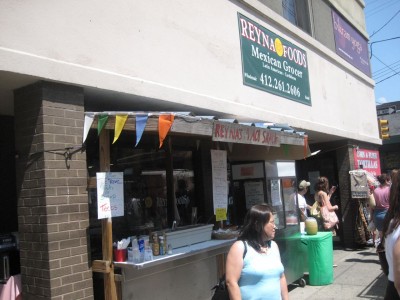 Reyna's Taco Shack
www.yelp.com/biz/reyna-foods-pittsburgh
(this guy really need a web site)
2023 Penn Ave
Pittsburgh, PA 15222
412-261-2606
Operated 7 days a week by former Taco Loco owner, Edgar Alvarez, I'd like to think of the Taco Shack as a separate entity from Reyna's. As I've heard the story, Alvarez shifted the Taco Loco location a few years ago into a space shared with a Carson Street bar. That was a far better location, but the union worked out poorly enough that Edgar left (though I'm unsure of the particulars). While he is in the process of locating the right space for his next restaurant, Alvarez is manning Pittsburgh's one and only authentic taco stand.
Not quite affiliated? The Taco Shack sits right out front of Reyna Foods, which is actually a destination in it's own rite. Given the name (and shared sidewalk), I'd imagine Alvarez has an arrangement of some sort with Reyna's, but I like to think of the shack as it's own establishment. Edgar is happy to serve up Reyna's salsa and various signs point back into Reyna's for additional prepared items (which are also well worth trying). You might even consider buying a drink from inside if you're ever looking for variety (or something to go).
Steak, chicken, beef, pork, cow tongue, fish, shrimp…or veggie? The menu is pretty straightforward, but not entirely limited to tacos. Then again, tacos are the focus: a hand-written sign lists a wide range of taco fillings (including both fish and shrimp). For straight up vegetarians, the only option is a veggie burrito. Luckily, I have no problem with the shrimp or fish options, so both work for me. Of course, given the scale of the operation, it's also nice to see at least the single all-veggie option (and probably a tasty one, at that).
Walking up to the shack. If you're walking past Reyna's, the shack is really just that: a sparse wood frame covered by a corrugated aluminum canopy. The minimalist structure houses a combined counter/griddle with a countertop display case hanging out on the right side. A small table outside the canopy holds three different types of Agua Fresca, a traditional Mexican fruit drink that I'll discuss later.
Behind the counter. Alvarez himself is the only person you'll ever find behind the counter. He dutifully preps fresh tacos with graceful skill making the many stop process look easy. Actually, observing his technique has left me with a lasting desire to invite some friends to a taco party of my own.
When your taco is ready, you should definite eat it fresh—preferably right then and there. The shack itself has space for only two small patio tables, but I'd imagine the more talented among us could probably enjoy a taco without ever sitting down. As one who lacks mechanical talent, I was more than pleased to find an empty seat so I could take some photos.
Two Shrimp Tacos. For my visit, I ordered up two shrimp tacos. Honestly, I didn't expect to eat both—but they were good enough that I did. The first was sufficiently delicious (and well-portioned) that I ended up eating both.
Starting with a hand-crafted corn tortilla (from Reyna's), Edgar drizzles on some oil before starting to griddle the tortilla. Right along side, he tossed on some shrimp and (sadly) rice to bring them up to heat. The final taco stacked up the shrimp/rice with chopped up lettuce and tomato, a dollop of sour cream, a light sprinkle of queso blanco, and a finishing squirt of fresh-squeezed lime. My photos show flakes of what looks like black pepper, but I can't quite remember if that's what it was.
Both tacos were skillfully swept off the grill with a few quick tong maneuvers and placed right in a little paper dish. It's hard to say whether the spectacle of the experience tainted my taste buds, but the result was a delicious well-balanced meal that was probably even somewhat healthy. At least, the oil, sour cream, and cheese were applied with a sufficiently light touch to avoid much guilt.
Drinks are at least worth a comment. I had to dig a little to figure out the background information on Edgar's drink selection, but I think I figured it out. As far as I can tell, the three different lemonade-esque beverages fall into the category for Agua Fresca. Whether that's an accurate name or not, they were more than an appropriate for a hot summer day—and the day I visited was definitely hot. I tried the lemon variant and was pleased. It wasn't too sweet, but it was definitely a sweetened beverage. Think of it as a low sugar lemonade—very refreshing.
So what did I think? If you're ever jealous of non-local foodies who rave about taco trucks in their own towns, then you really ought to stop by Reyna's Taco Shack to see what you've been missing. Pittsburgh now has it's own little taco "truck." If you're spending your Saturday stockpiling Strip District goods or just hitting up the Farmers' Market, then I can't imagine any better lunch than a quick stop by Reyna's.
I don't often have a good opportunity top stop by, but the Taco Shack at Reyna's is definitely the kind of place you have to visit at least once. It's very much a must-try destination for Pittsburgh foodies. Be sure to head out there sooner, rather than later. Something tells me it won't take too long for Edgar to find an exciting space for his next project.
Tags: independent, must-try, strip-district
6 Responses to "Street Food: Reyna's Taco Shack"
Leave a Reply