Posted by mike | Filed under Reviews
This one was a great find. I had never before even heard of Smiling Banana Leaf, but then randomly noticed a reference to the place in a Twitter feed. I can't even remember who posted it, but I'm glad it caught my attention. I did some research, found some reviews, and decided I definitely needed to give them a try. Within a week of hearing of the place, I even had a chance to make it out and enjoy some exceptional Thai food in an unassuming little place.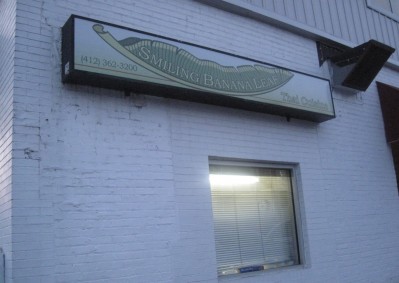 Smiling Banana Leaf (Highland Park)
www.smilingbananaleaf.com
5901 Bryant St
Pittsburgh, PA 15206
(412) 362-3200
Smiling Banana Leaf is a tiny little Thai restaurant in a location that's easy to miss. It's an unassuming little BYOB establishment with a clean look and excellent food. My date commented that it almost reminded her of the place you might find tucked into a residential area in Thailand (though, sadly, I can't corroborate). I'm not certain about history or when it opened, but I'm guessing the place is well known to at least a few: the place was packed on the evening I went out. Then again, it's small enough that filling the place doesn't take all that much.
Tucked unassumingly into Highland Park near the The Union Project, it's a little hard to find if you don't know what to look for. I drove right past and walked right up to it before I was sure I had the right place. Even after I noticed the sign (hidden on the side of the building), I still wasn't quite sure where to find the door. The only indication that the place was open was a single couple dining on a single outdoor table.
Clean, comfortable, small. Though the place is small, it still manages to present an extremely comfortable look. Bright colors and comfortable cushioned chairs make the space look quite inviting. It looks like the kind of hang out and talk with friends for quite a while. The single dining room is small and relatively narrow lined with just two rows of tables—most accomodating just 2-3 people. It's definitely not a place where I could ever hope to schedule a meetup.
Somewhat large, thoughtful menu. Like most Asian restaurants I've experienced, the menu is fairly large—filled with various combinations of different genres of food and and the possible contents of each. It's also available online, if you want to take a look. For those looking for the Cliffs Notes, I found salads, stir-fries, curries, fried rice, noodles, noodle curries, noodle soups, "chef's specials"—and that's just the list of sections. In this case, there seems to be a little more thought than just enumerating permutations. Most items actually to have their own identity rather than just a description of what contents to expect. If there were multiple protein options, they were listed within a single item rather than 5. It was actually quite a refreshing format.
In general, I enjoyed the food. Every dish was highly distinctive and interesting. Both I and my date ordered a spice level of 6 and ended up with something that actually packed a pleasant level of spice—right around where I think a 6 should be. Everything that appeared on our table was colorful and well presented. Any sauces had a sufficiently light touch to let a number of flavors shine through. To round off the experience, those light sauces resulted in meals managed to come across as refreshingly healthy
First, some Fresh Spring Rolls. We started off with some spring rolls paired with the traditional spicy peanut sauce. We added Shrimp to ours and I found them to be quite refreshing. Spring rolls in general offer plenty of fresh flavors in a nice compact package. These were no exception, but I think I'm still partial to the ones I got at Sweet Basil (which I think is in the process of relocating by a few blocks).
Followed up with Garlic Shrimp. For my meal, I ordered the Garlic Shrimp. This was one of those generic options where I could have selected "any meat" (including tofu). I ordered a spice level of 6 and ended up with a pleasing degree of heat—that was almost surprising given that a 6 in some places doesn't mean all that much. Really, I have nothing but praise for this particular dish. I ended up with plenty of steamed veggies, some shrimp for a little protein, and all sorts of flavor. Definitely a feel-good dish that I didn't feel at all guilty about eating.
For my date: Spicy Noodles with tofu. Across the table, Emily ended up with the Spicy Noodle (a.k.a. Pad Kee Mow). Wide noodles, firm tofu, and stir fried cabage came together in a brown sauce to produce an even spicier dish than mine (even at an identical spice request of 6). Even given the spice level, the flavor wasn't at all one-dimenional and the somewhat heavy noodles were well balanced by the cabbage. I'd easily get this item myself.
Another BYOB establishment. There's never much to say about the drink menu when it's BYOB, but used this as an opportunity to stop at 3 Sons on my way home from work and pick up an assortment of ESBs—a style I thought might go well with Thai. I'd like to think that it did.
Like I said, a great find. Like most Thai food, it was full of veggie (and crustacean) options, fairly healthy, and packed with flavor. I'd worry about getting a table on a busy night, but worked out exceptionally well for a week night date. I'd definitely go back and give it another try. Actually, I'm quite interested in heading back to try one of their salads or noodle soups. It feels like my ratings have been heading in an unnecessarily positive direction, but I really can't imagine not marking this one down as must-try.
Tags: byob, highland-park, independent, must-try, veggie-friendly
5 Responses to "Review: Smiling Banana Leaf"
Leave a Reply