Posted by mike | Filed under Beer, Reviews
Oozing with character. That's my primary thought on the Park House. I had actually been hearing about this north-side standard for some time now—starting years ago when a former girlfriend was working up at the Children's Museum. At that point, I just heard about excellent sandwiches at lunch time; I was jealous. Fast forward 3-4 years and another friend mentioned them in the context of places with good beer lists. That mades two good reasons to check them out, so I did.
A few Friday's ago, I made plans to meet up with a friend—actually an great new friend that I met through this very blog (Jen). That outing gave me a chance to hang out over a few beers and see two different items on their menu. Definitely a fun trip.
Correction: It seems my memory of the beer special was wrong. The special is actually $2 off, rather than 50%. Given that most of their beers are about $5, that's not really a huge difference anyway.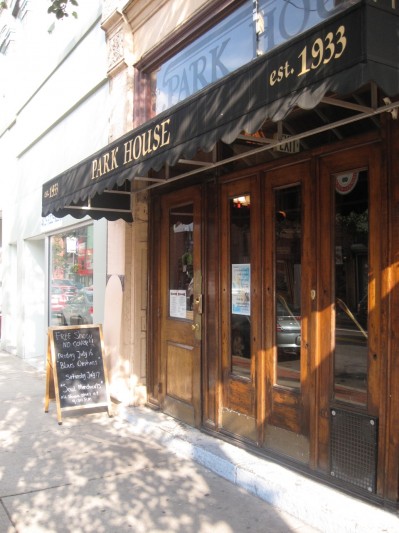 The Park House
parkhousepgh.com
403 E Ohio St
Pittsburgh, PA 15212
(412) 231-0551
In case you've missed it all these years, the Park House is up on the North Side—a part of town I've only recently started to discover. It's a bar, though one with an a great selection of craft beer. Except craft beer isn't all they can offer. The Park House also offers up a full menu with a few twists and turns from what you might normally expect at what is largely a North Side bar. Most notably, the menu lists a decent number of veggie options. Sadly, though, the one item that I was most excited to try is no longer available: the "Eat your veggies or go in the corner" spinach-lentil sandwich. When I asked for one, there was some uncertainty over whether it was even available.
One more thing: after this visit, I already have a favorite Park House anecdote. While waiting for Jen, the bar tender described the happy hour special as half $2 off all beer except a few listed macrobrewed "lite" lagers. Nice.
Doesn't it look like a fancy restaurant from the street? Judging from the black canopy and old wooden doors and just peering into the darkness beyond the windows, my brain almost categorized the place as one of those quaint little restaurants where everyone sits quietly at cloth-laden tables. Thankfully, I couldn't have been more wrong. In discussing free peanuts, the web site calls the place a "throw your-shells-on-the-floor kind of place. That just about sums it up.
Once you do get in side, the bar runs down the left side of most of the length of the restaurant, and there's only really one row of seating beside it. In the far back, there's a little bit more space for some larger tables. Presumably, that's where the live music gets to set up.
Table kitch. If you zoom in to the tables, the first thing to catch your eye is likely the little peg-board games. If you've ever been to a Cracker Barrel, you've seen it before. It's basically the same game (and that might even be where they bought them). Another cool detail that didn't show up until later: Jen and I both ordered water, and ended up with a re-purposed vodka bottle serving as pitcher on our table. Both the game and the bottle served as nice little touches.
Veggie sightings all over the menu. Just walking through the menu was kind of exciting. Mixed in among all the standard bar food that you would expect were a significant number of veggie-friendly options. I noted Falafel (both entree and sandwich options), a "Peace in the Middle East" Platter, a hummus appetizer (with a choice of hummus flavors in what could only be made in house), and a Spinach Burrito. The menu boasts a house-made veggie burger (constructed with spinach and lentils), but I was told they were weaving in and out of having that one on the menu and didn't have any available when I showed up.
That they list some veggie-friendly (and semi-healthy) options to go with gives me hope that the non-veg options are at least presented with some careful attention. In a pinch, I'd probably even order one of the non-veg items (and still might just to give it a try).
Free peanuts and popcorn. While you're waiting for food, you can help yourself to free peanuts and/or popcorn. Jen picked up some of each. They're no frills snacks, but I think it's a nice touch. They kind of reminded me of Friday night outings with my family when I was a kid. Turns out, when you're not old enough to drink, the peanuts and popcorn are the most exciting aspect of any bar.
Across the table: a falafel sandwich. First off, Jen's falafel sandwich looked amazing (making me enormously jealous). She was quite pleased with it, so I'll definitely give it a try next time.
Pretty decent Almost heaven Spinach Burrito. After dealing with the blow of rejection from the "Eat your veggies…" veggie burger, I switched my order over to the Almost Heaven Spinach Burrito. I was a little nervous the thing would show up overstuffed with filling, but it came out just the opposite: the tortilla hung like a baggy pair of pants around the well-portioned veggie mixture. I'll take it.
In terms of actual content, the contents were primarily spinach with some onions, tomatoes and mushrooms in there somewhere. The cheddar cheese made it's appearance as a melted layer on the inside of the tortilla. I'm guessing it had ben melted into place pre-assembly.
I came out only semi-positive on this wrap, but I'm certainly not going to write the place off as a result. I think it made for a solid veggie choice with a pretty well-rounded flavor. Overall, it's a fairly healthy option with a controlled level of cheese—though leaning closer to too much than not enough. Even so, it wasn't much to write home about. According to the web site, they'd gladly have hit it up with salsa or a number of dressings—including a balsamic vinaigrette. It sounds like next time, I'd definitely request the salsa (or perhaps the balsamic) for some extra depth.
It was the beer that finally lead me in. I'll be honest: references to the Park House didn't manage to pull me out there until after I heard that they had both good food and lots of craft beer options. My sources were right: I counted at least 16 taps with the vast majority going to craft beer. To pair with that quantity, the bar tender was able to drop some pretty decent ideas in discussing options for my second beer. Between his recommendations and that enthusastic expression of the happy hour special, I got the impression that they at least had a decent handle on the beer. Just remember, half $2 off all beer—except for miller light, PBR and any other macro-brews.
I'll definitely be heading back. It's not often that I find a bar flowing with veggie options, reasonably healthy options, and a downright enthusiasm toward good beer. In my book, the three elements combined pull the Park House into the category of must-try. That will likely remain true as long as you're looking for a fun place to grab a beer that won't frown on a healthy lifestyle. On the other hand, it's harder to make the must-try case if you're just in it for the food. After all, if you're just looking for good food, then, by all means, go somewhere other than a bar!
Tags: good-beer, independent, pittsburgh-north, veggie-friendly
5 Responses to "Review: The Park House"
Leave a Reply