Posted by mike | Filed under Commentary, Reviews
There's a new hotel downtown, The Fairmont, and I only knew about it because of the restaurant: Habitat. I suppose that's the sad reality of FoodBurgh. Not too long ago, they invited me to a preview event for their Fall menu—and I actually took them up on it. I say "actually," because Habitat doesn't fall into the restaurant category that I tend to cover here on the blog. I focus more on small local establishments in a low to moderate price range—because many of them could use a little bit more attention. Habitat is a large expensive place that has been getting plenty of attention already.
Why am I posting? My gut reaction to Habitat is split. On one hand, the marketing material claims a focus on local sourcing; on the other hand, many of the ingredients on their menu are obviously not from around here: Scottish salmon, Maine lobster, maryland crab, yellowfin (a.k.a., "ahi") tuna, and even freakin' octopus. With ingredients like that, one might think they're not even trying. Despite the menu versus marketing disparity, I've actually grown to be supportive—and not just because they served me an amazing free dinner. I'm hoping I can use this post to explain why.
DISCLAIMER: The Fairmont Hotel invited me to this preview event, served me cocktails and wine, and bombarded me with a flowing stream of samples from a beautiful open kitchen. I didn't have to pay a thing. I've also never actually sat through a traditional dining experience. What I present in this post are my own opinions, but readers have every right to take them with whatever size grain of salt they deem necessary.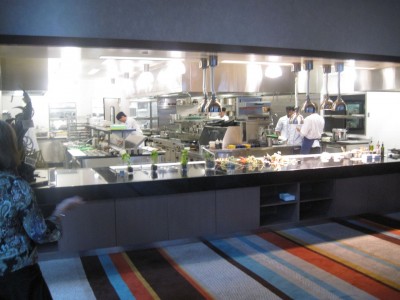 Habitat: Internationally inspired, locally unique.
www.habitatrestaurant.com
510 Market Street
Pittsburgh, PA 15222
(412) 773-8848
Some background on Habitat. Habitat just opened this year—coinciding with the completion and eventual opening of the Fairmont Pittsburgh in the new building at 3 PNC Plaza. Located in the second floor of the hotel, it features a well-regarded Chef (Andrew Morrison) and a menu focusing on international cuisine. As I noted earlier, Morrison tries try to construct those international dishes with as many local ingredients as possible. There's also a bar in the downstairs lobby, Andy's, but it's actually a separate entity—though still under the Fairmont's umbrella. For the time being, Andy's is even playing host to some local jazz each week from Wednesday through Saturday.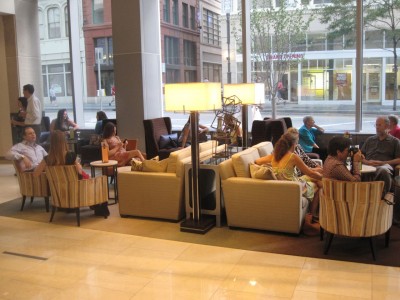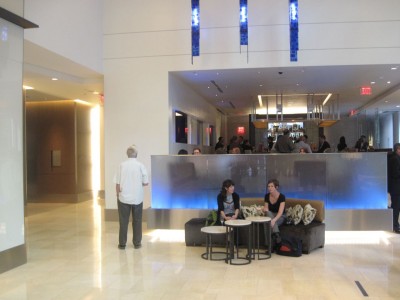 What is it that makes me supportive? I wasn't always a supporter: I actually left the preview event with a negative perspective. The food was amazing, but it really felt like they could have tried a little harder to create a locally sourced menu. Add to that the realization that the restaurant is way out of my price range, and I was already pondering how I would frame a fairly negative writeup. I really only changed my mind after some extra details started to emerge.
What Habitat's doing right:
They keep marketing in house and target social media.
They are open in their policy on non-local ingredients.
The chef (and staff) are normal down-to-earth people.
They actually sent a representative to PodCamp!
Participating in the Internet community. My email invitation came through the FoodBurgh contact form—from one half of the Fairmont Pittsburgh marketing department: Julie. That's a huge step up from the external marketing firms that usually contact me on behalf of larger downtown restaurants. That simple details is what brought me in the door.
At the registration table, Julie recognized me fairly quickly and even showed some excitement that she actually had some bloggers at the event. Even the property manager made a point to mention that he had hired Julie (a younger professional) for the specific purpose of connecting with the Internet community (among other roles, I'm sure). The final bonus: Julie waved me down the first day of PodCamp and said hi. It seems the Fairmont is really trying to do this social media thing right. To me at least, that's worth some points.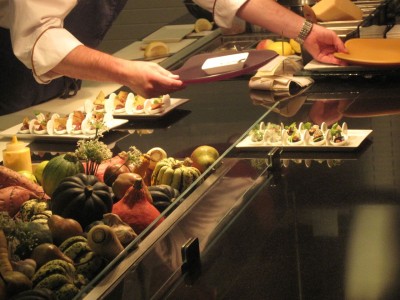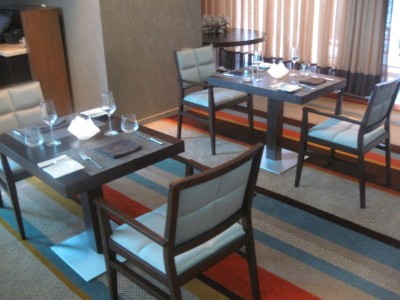 Getting past the non-local menu. Before any food was served, the Chef came out to address the crowd. His first comment: they don't source everything locally. Instead, they constantly review their menu for as many local ingredients as possible. Given the International flair, there is bound to be an item that's simply not available nearby, and they accept that. Could they create a menu that's 100% local? Sure, but that's not what they're aiming for. At least they're honest about it.
Meet Chef Andrew. Beyond his honesty, the Chef really does seem like a nice guy. There are a handful of profiles to be found, and they all show a fairly similar image: a down-to-earth guy with a family at home (that he keeps completely out of the spotlight). He's not a native of Pittsburgh—or even this country, but he feels like he could very well live down the street and you wouldn't even notice. He also keeps a bit of a blog on the Fairmont site. When I first found it, I was more than a little skeptical that the writing was his own, but Julie assures me it is—though with a little prodding on her part to keep it active.
Finally, some thoughts on the food. First, I went completely non-veg for this event. It just wasn't worth keeping an eye out for every sample, so I took the plunge. Nearly all of the meat was local and humanely raised farms anyway. I'll avoid writing too much about each and post my favorites here. For everything else, check out the Flickr page I created for the outing.
Best Dish: Tuna Tartar Carpaccio. By far, the most memorable dish I had all evening was the Tuna Tartar Carpacio (below). Served on a tiny ceramic spoon, this was full of complex flavor. With layers from the acid of a soy vinagrette to the fat of an avocado mousse, this was a complex dish that offered no choice but to take it down in one bite and let the flavors meld together. In the parlance of Craft Beer Radio, I'll go ahead and call it a "wow" dish. Any more than a tiny sample might be too much, but the little spoonful at the preview event was delightful.
Biggest Flop: Chicken Tikka Masala. To call this a flop is a little unfair, but I'm going for honesty so I'll say it. The major issue: the chicken was extraordinarily dry—and everyone I talked to at the event seemed to agree. I say calling it out is unfair, because the sample was really nothing but chicken and some Indian seasoning—without the masala. An actual chicken tikka masala would have been braised in liquid and served in that same liquid with some basmati. I'm guessing the entree itself has the missing components, but they didn't fit into the preview event portion. The dry texture actually makes sense: take out the fluid and set out little pices of chicken on a stick, and it's bound to dry out. I wonder if it had even been braised in the masala sauce to begin with.
Overall. I'm a fan of Habitat, but it's a little out of my price range. Sure, I could afford it—on some very special occasion, I might even go. Still, I'd rather take a few friends to something a little more low key. That's just my personality. Still, I've become a fan and supporter of Habitat. Say what you will about their sourcing and menu, but they're honest about choices made and seem to really care about being an active participant in the local food conversation. That's a lot more than I ever expected out of some fancy hotel restaurant, so it catches my eye and gives me someone to root for. If you can afford it, Habitat fits squarely in the worth a shot category—even considering price range.
Tags: downtown, non-veg-meal, worth-a-shot
6 Responses to "Commentary: Defending Habitat"
Leave a Reply