Posted by mike | Filed under Reviews
I have to admit, I didn't expect much when I noticed Gran Agave popping up in the big box-oriented Waterfront area. After all, the vast majority of dining options in that area are big chains. Sure, there are some less common chains with pretty good food, but it's basically the land of the average American bar and grill (not to mention fast food). Then I started to hear people talk about Gran Agave—and they said good things. Readers recommended it, even. Now that I actually stop to think about it, there have been a few local places peppering up in that area. I'm not sure whether that's by design or just organic growth, but I'll take it either way.
Because I had heard all the positive comments, I took a chance and scheduled a FoodBurgh meetup—before I had ever tried the the place. That turned out to be a great meetup, but a big group always tends to distract me from getting a good feel for a new place; I needed another visit before I could really write something about them. So, on a Wednesday night whim, I had another go—and even had a chance to talk with the GM (and owner?). It's amazing what an overactive camera can lead to. ;-)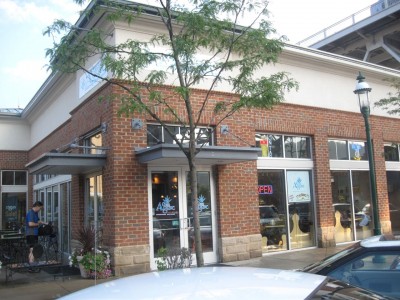 Gran Agave
www.yelp.com/biz/gran-agave-homestead
(unless you have a better link)
152 East Bridge Street
Homestead, PA 15120
(412) 461-5000
Gran Agave is a fairly similar to several of the other local Mexican restaurants and regional chains. It fills a similar space to Cuzamil or maybe the West View El Campesino—it just happens to be tucked into the depths of the Waterfront. They serve up some familiar options, but I also found a few that sparked my interest: vegetarian sopes, mole poblano, and camerones rancheros. Like many such establishments, there's a dedicated vegetarian section on the menu. The cheese and bean slant of the veggie options was somewhat disappointing, but they do list a vegetarian fajita that sounds highly veggie-focussed.
Regardless of the sparse veggie options, I was fairly pleased. Mexican in general isn't exactly my favorite kind of food but what I did eat at Gran Agave was well presented and full of flavor. The interior is clean and just busy enough to be interesting. The beer list was unsurprisingly limited to Mexican imports but draft Negra Modelo is actually a pretty good option.
I'll just lead in with a rant. There's actually a discussion in the City Paper's write-up over how many of the menu items are "authentic." I'm bringing it up here because it came up in my conversation with the GM: he seemed to take offense to their comments. I think the issue here is the mere question of authenticity. There's no reason to believe that "authentic" necessarily implies good or even just better than "unauthentic." It's just different. It may have been somewhat useful label years ago when the US was largely a food wasteland, but things have changed.
For a restauranteur in the States, it probably makes a lot of sense to present your own version of Mexican cuisine, but keep it tempered to what Americans expect. Throw in all the cultural influences you might have picked up from whatever source inspires you but, first and foremost, make something your customers will like. With a good mix of authentic and Americanized options, that's the direction I sense at Gran Agave.
For the record, a friend that grew up in Mexico came out to the meetup; he liked Gran Agave. Of course, he also says the closest Pittsburgh approximation of the Mexican food he grew up with is served at India Garden. Go figure.
Now back to the restaurant. Leaving food and authenticity aside for a moment, it's always worth taking a look at the interior. Looking over my photo roll, I seem to have skipped over many interior photos, but I will say the place is clean and full of flare (the good kind). Tables are somewhat tightly arranged in a rather cozy single-room environment and two sides are mostly window–looking out toward the "village" region of the Waterfront. Turns out, the GM is an architect by trade and seems to have done an excellent job of crafting a visually interesting space out of the box he was given.
Stepping through the menu. If you're really interested, Urbanspoon is hosting some photos of the full menu. It spans all the options you might expect: cheese-based dips, nachos, soup, some sparse salads. Section wise, there's nothing out of the ordinary. In terms of things that caught my eye, the vegetarian section didn't quite do it. I did notice Pollo Criollo, Red Hot Carnitas, Camerones Rancheros, and Camerones a la Diabla. Actually, one thing I'd really like to see is a veggie version of Tacos de Carne Asada. I bet they could pull it off.
Meetup Dinner: Vegetarian Sopes. Sopes are an item I've seen on a few menus but haven't come to expect them. The vegetarian version cuts out the ground beef but keeps most everything else. In this case, they started out on a base of puffy corn shells—soft and 1/4-inch thick. Each shell started with refried beans and a small pile of soft (roasted?) carrots and potatoes all covered with shredded lettuce and a sprinkle of grated cheese. The menu mentions two sauce options for the meat-based variation but I don't remember having that option.
The sopes were interesting, though not particularly exciting. Still, they were a welcome addition to the the vegetarian menu. I did appreciate that the light sprinkling of queso blanca was pretty well balanced, but the corn/bean/potato/carrot base felt extremely start heavy. Based entirely off my preferences, I'd probably skip ordering them again. I suspect the added texture of the beef version would add some character—as would the addition of some sauce—if you wanted to try the meat-based route.
Wednesday Dinner: Mole Poblano. For my follow-on outing, I came to terms with the fact that I couldn't really experience Gran Agave by staying on the vegetarian side. For that trip, I went with Mole Poblano—definitely a better representation of what the restaurant's about. In retrospect, think the shrimp-based Camerones Rancheros would have been a good option as well, but I'm still glad I tried the mole.
I'm not an expert on Mexican cuisine, so the mole caught me a little off guard. Mole Poblano is a specific variation on the sauce struck me as being a little sweet. Chocolate is listed among the 20 or so ingredients and came out with a fairly strong presence in this case. Along side that chocolate, I picked up a definite sweetness—which others may or may not like. If you order the mole, take note: it's best to be ready for it going in.
Beyond just the chocolate, the mole did show off plenty of complexity and thoroughly coated the strands of shredded chicken breast. Between the sauce and the chicken's pleasant stranded texture, I was fairly pleased. I actually approached the dish from two different angles. First, I used an accompanying tortilla to build a simple little taco of just strait up mole-infused chicken. The second started in the same way but I topped with some veggie matter—a fork or two of the guacamole-covered salad that came on the side. Both were enjoyable, though I'm guessing the meat-only option the more traditional approach.
Going around the table. On the meetup visit, I captured shots of two additional menu items, though I'm a little uncertain on what they are. I'm guessing the first is a pair of sauce-covered tamales and I'm completely lost on identifying the second. I'll post both photos but they definitely need a giant disclaimer. Don't count on the accuracy of my labels.
Mexican beer: the only real option (at Gran Agave). Mexican restaurants represent a somewhat interesting side of the beer universe. I find that almost none show off any craft beer, but most will serve a wide range of Mexican beers that you tend not to see everywhere. After all, how much Mexican craft beer actually makes it up to the states? Those south-of-the-border variations on German lager are still brewed by huge corporate brewers, but they show off a little more variety than the the macro-brewed domestic light lager options. The legend even goes that the Vienna Lager style might have died without a strong presense in Mexico. To me, that means a Mexican beer list doesn't necessarily make for a great beer destination, but it's far better than being left to choose among macro-brewed light lagers. Gran Agave follows precisely that trajectory. In my visits, I've gone with mugs of both Negra Modela and multiple Dos Equis varieties (Amber and Especial).
I really am fan of Gran Agave. I'm definitely rooting for their success, but that also tends to be true for the vast majority of locally-owned restaurants. If you sense a little trepidation in my review, it's best attributed to my attempted healthy slant. When you go with Mexican restaurant, you tend to forego any efforts to be healthy. In the case of Gran Agave, the health situation seems to be at least in check. Though the food is just as starch-heavy as any other Mexican restaurant, they do seem to keep the cheese (and excessive portions) in check: my sopes had only a light sprinkle, while my mole poblano had none.
The vegetarian portion of the menu is a nice touch as well, but tends to focus more on removing meat than replacing meat with veggies. In the end, it's really a mixed blessing.
Rating-wise, I'd say Gran Agave is definitely worth a shot. They don't line up perfectly with my particular tastes, but that's not for lack of quality—it's purely a matter of preference. I like what they're going for, love the decor, and will most certainly be going back. Whether they work out for you really comes down to a matter of preference.
Tags: independent, newcomer, non-veg-meal, veggie-okay, waterfront, worth-a-shot
4 Responses to "Review: Gran Agave"
Leave a Reply