Posted by mike | Filed under Reviews
From the name, you might think that Brgr is the last place that I would ever want to go. You would be wrong. It's true, the place is highly meat-focused and healthy is the last thing on the menu. Only one of their burgers fits a vegetarian slant, but I do like what they're going for. At some level, Brgr is just an extended Spoon Lounge—though calling it that is really a huge understatement. It feels like a completely different place—including a separate door.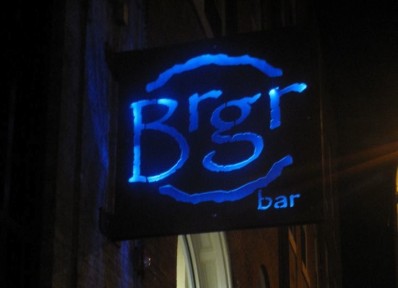 Brgr (East Liberty)
www.spoonpgh.com/lounge.php
5997 Penn Circle South
Pittsburgh, PA 15206
(412) 363-2333
As much as I liked the amazing food and quality wait staff at Spoon, Brgr's parent restaurant felt just a little stuffy and uncomfortable. Brgr, on the other hand, seems to aim for a highly informal feel. That goes a long way toward meeting my own preference: a stress free, highly casual place to relax over good food and drink. Of course, the menu offers a few salads—but that's not why you should go there.
For having just opened, Brgr isn't really a new space. Even a few weeks ago when I went to Spoon, the sign was up and the lounge was filled. Presumably, the only change since that time is the debut of an actual menu. From outside, not much calls attention to the space—just a single, glowing blue sign sticks out over the entrance. Inside, the space is open but tightly packed with tables and a square-ish U-shaped bar tucked into the back-right. The layout is basically unchanged from the days of the 2Red Lounge—the Brgr analog of the former Red Room.
Like every bar in Pittsburgh, flat screen televisions adorn the upper quarter of the dark blue walls walls. During my visit, the screens were on but showing random television feeds. A projector seemed to rotate through an eclectic food-centric slide show, but I'm guessing it projects the sporting event of the day when there's one to be shown.
Who frequents a "highly approachable" gourmet burger joint? Perhaps by virtue of the area, the clientele appeared varied. I spotted both a spattering of prep and some highly casual guys lounging over a beer in Steelers jerseys—though a friend claims to have seen more prep than not. The wait staff dressed comfortably: sporting dark jeans and black Brgr tees.
How long before taking a drink order? I've heard some complaints regarding service, and I saw some evidence to support those claims while I was there. When a table opened up (after a reasonable wait), we were greeted promptly by a waiter, who awkwardly explained his hope for getting our orders right—apparently that wasn't the case for his three previous tables. It wasn't until his third visit that he actually collected drink orders. Only minutes later, we ordered food, but the burgers showed up very shortly thereafter—before those drinks ever arrived. When the drinks did arrive, our waiter seemed lost as to who ordered which drink and even mixed up two of our shakes—mislabelling which was which. When we figured it out at the end of our meal, the waiter just laughed it off.
I'm going to write the service confusions off as a one-off bad day. Everybody has them. Perhaps I could even just blame the new-ness of the place. I note them here only for the sake of being open in my presentation. In reality, I'm typically the last person to fault a restaurant for a single instance of service confusion.
Burgers—plus just a little on the side. As one might expect, the menu featured burgers. Other prominent menu features: shakes and beer. Shakes consumed the far left menu pane while beer consumed the far right. I went in half expecting to find nothing beyond just burgers, but found instead a light sprinkling of salad, antipasti, chili, a hot dog and an assortment of fried items. The default salad came with whole strips of thick-cut bacon, making the veggie burger the menu's sole vegetarian entree—though the bacon was easy to knock off the salad and probably even easier to request an omission.
Creative names for creative burgers. I've seen too many menus with the same old boring burger list. Brgr seems to break that cycle pretty easily. Kobe Beef Burger and Fire in the Whole are fairly standard but names (and constructions) pick up from there. I have to admit a little intrigue in the Banh Mi Burger and absolutely love the with behind the ("secret") trademark-infringing Double-Double Animal Style. Almost as good as Brgr's The Dude Abides spiked shake (with Kalua and vanilla vodka). Even the heart attack inducing Bada Bing-Bada Boom is creative: an Italian sandwich on the wrong style of bun.
How about that veggie burger? Truth be told, I can't stand veggie burgers—at least when they appear on a menu. That's not suggesting all veggie burgers are bad; they aren't. Really, they can be quite good when well executed. The real trouble lies in how restaurants tend to use them. I've had halfway decent veggie burgers from a freezer and, of course, eaten exceptional veggie burgers from someone's kitchen. The trouble with veggie burgers on a restaurant menu is really that it's often just a cop-out. More often than not, its just an item lesser restaurants throw on their menu to appease meat-avoiding diners. So much for eating light.
As one would hope, Brgr's veggie burger, the Tree Hugger, is an exception. They make their own from "falafel" and lentils. Unfortunately, I didn't order one this time to note whether the "falafel" is really just cooked and crushed chic peas or actually seasoned and fried before breaking up. With a topping list including hot and sour cucumber, tomato, red onion and goats milk yogurt, Brgr visit #2 is pretty high on my upcoming list.
Soft buttery buns. When you order a burger (as others at my table did), the server asks whether you're aiming for "pink" or "no pink." As our server explained it, you're choosing between just below medium and just short of well done—though the two-way choice gives the kitchen a little room. Creative, I suppose. The burgers themselves showed up with a little pickle stuck on top with the same toothpick that holds the toppings and burger in line. That seems to be universally the case—regardless of the burger. The buns were butter-laden and extremely soft—almost reminding me of the Swenson's drive-in I remember from my days in Ohio. Honestly, the tall-standing presentation and reasonably-sized burger had more of a cartoon appearance than a "gourmet" burger. I tend to think that was the goal.
Well recieved burger toppings. The toppings went over well with my whole table. Fire in the Hole was reported to offer up just the right level of heat, and a single large portabello on the Shroomz was highly regarded for packing a big mushroom flavor (though that report contradicts the menu's description). The quiet guy in the back (er, I mean Brett) was even happy that he could order a burger specially suited to his close-talking kin (i.e., the Average Joe).
You're kidding me, a salad? Insert the requisite ridicule here, but I knew full well that most of my table would go for a burger. There would be plenty of examples of the restaurant's namesake around the table, and I was more than a little interested in what they'd do with the salad. The menu describes the sole lettuce-focussed option fairly well. The Grilled Romain is advertised as a grilled head of romaine with roasted tomatoes, blue cheese, avocado, and thick cut bacon.
The actual salad showed up as basically a half head of romaine with very light grill markings on the cut edge (it could have used more). Cold, previously roasted tomato halves were stripped of their skin an plopped down in one piece over top the lettuce. Not-quite-ripe avocado was scattered around the greens down on the plate. The advertised buttermilk ranch came pre-administered. The dressing's presence had been one of my larger calorie concerns, but it was administered with the light hand of good taste. The dressing was fairly thin—presumably avoiding much (all?) of the mayo listed in he standard recipe. I tend to prefer a balsamic on this style of salad, but we could all use some exposure to new ideas.
Just looking for good beer? Brgr is by no means a beer destination, but that doesn't mean they don't do a good job with their list. With a bottle list organized by style and a draft list that features only one macro-lager, the restaurant deserves some significant beer geek cred. You won't find any really surprising beer, but I didn't have any trouble finding a style and brand that fit my mood for the night. Overall, the beer situation is pretty good.
It's also worth noting that the wine list, though small, looked to be at least halfway decent. One could only hope for such an outcome, given their affiliation with Spoon.
I want to like Brgr, so I'm definitely headed back. The fact that someone who avoids burgers like the plague can make such a comment says a lot about the place. Still, I'm not completely sold. There were some service hickups, but such hickups tend not to bother me in the least (especially for a new place). Our server was friendly and appeared to be trying, which is just about all that I would ask for. At this point, I'm already feeling the pull to go back with a different group and at least give their veggie burger shot. For the time being, the place lands squarely in worth a shot territory.
Tags: east-liberty, good-beer, newcomer, veggie-okay, worth-a-shot
7 Responses to "Review: Brgr"
Leave a Reply