Posted by mike | Filed under Reviews
While the rest of the universe has been going crazy over Salt of the Earth, I decided to switch it up. I gathered up some friends and made my way over to Spoon. I can go to Salt any time (and will soon). Spoon just happened to jump onto my list when I bumped into an employee just a few weeks before they opened. Between the name and a quick description of the goal, they had my attention.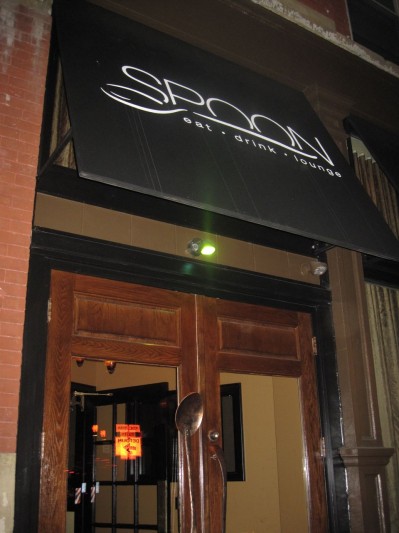 Spoon
www.spoonpgh.com
East Liberty
134 South Highland Avenue
Pittsburgh, PA 15206
(412) 362-6001
Spoon had been explained to me as a new entrant to the casual dining scene with a strong focus on simplicity and approachability. There's actually a little more to the place than just simplicity: they also seem to embrace local sourcing, a seasonally changing menu, and a fairly well-rounded beer list—especially for their upscale genre. I'm not sure I completely agree with the "casual dining" label, but the remaining themes all ring true. In that sense, it's exactly the kind of place that I'm typically drawn too—just a step up in both price and general "stuffiness" from where I normally like to be.
Don't get me wrong, I'm a fan (a big one)—though primarily in a special occasion context. I don't think they meet the mark of "everyday hang," but I do think it's the kind of place that any seasoned foodie really ought to try.
A lounge and a restaurant. For the moment, there are effectively two Spoons: a lounge (which will very quickly become Brgr) and a restaurant (which I'm writing about here). Aren't these just two two halves of the same whole? Of course not: they each have a separate beer list. From just walking past the lounge (which also has a separate entance), it appears to have a fun atmosphere—a little more casual and just a tad bit louder than the restaurant. Casual as it may be, I still wouldn't call it a destination for the Beer Meetup—largely due to the compact size.
The restaurant itself takes a fairly large step in the up-scale direction. After walking past the valet parking signs and snapping a few quick outdoor photos, the first thing to catch my attention was the large spoon-shaped door handles. Cute. Valet parking tends to be a big cue, but stepping inside really drives the point home: this isn't a casual space. I would call it casual-leaning, at best. The whole place is well manicured with stylish wooden tables, dim lights, and white cloth napkins neatly folded over top contrasting dark, textured place mats. With that image in mind, it's hard not to appreciate the slightly tongue-in-cheek statement of every server donning a pair of clean, nicely fitted blue jeans. Nice touch.
Top-notch servers…in blue jeans. It's worth noting here that I actually ended up waiting for a while before my friends arrived—they were running late. I waited in a rather comfortable chair near the host table and eventually just made my way to the table. At that point, my server was enormously attentive—but kept his distance while I browsed the menu and wine list. We didn't really communicate much, but he must have refilled my water a dozen times. That was actually a nice treatment given the fact that I was already made a little uncomfortable by the fact that I was waiting awkwardly—taking up space and waiting for others.
The good news: when my friends arrived, we started to chat amongst ourselves, and out waiter jumped in quite naturally with a bit of personality. In response to our indecision over what to order ("there are too many good options"), he quickly threw back a rather witty "we're open 7 nights a week." From that point on, we experienced exceptional waiter-customer rapport. He was present when he needed to be and otherwise let us be. All around, the service made for a positive experience.
About those separate beer lists. I already mentioned the two separate beer lists. The lounge features both draft and bottle lists, but the restaurant sticks to bottles. It's limited, but they reach into craft territory in enough styles to work (Brooklyn Brown catches my attention). Still, I have wonder how hard I would have had to push to order an Elliot Ness or Big Hop x1from the lounge.
This time, a bottle of wine. Despite the reasonable selection, I skipped the beer this time. There were four of us, and it seemed like a good time to order a bottle of wine. I'll start by reminding you all of how little I know about particular vintners. That never bothered me quite so much until I became a beer geek—and seldom run into an unfamiliar brewer. Wine is a different world, so I picked something that sounded interesting: a Malbec out of Chile: Rutta 22. Though it's worth calling attention to the "adventurous reds" section of the wine list—which definitely caught my attention. Though not filed as "adventurous," the Malbec sounded like a good choice. It was: dry and crisp with all the promised berry overtones.
Small and simple (the menu, that is). I mentioned that the menu was changing seasonally; it also happens to be fairly small (simple, as advertised). How small? I count just 10 appetizers and 10 entrees. That's it. For the moment, the list includes butternut squash soup, a handful of salads, some more interesting hot appetizers, and entrees ranging from hanger steak to a pierogi-focused vegetarian sampler. From the whole list, I'm somewhat intrigued by the lobster cake with pickled beat salad. If you wanted to go completely vegetarian, the options on the fall menu narrow down to one of the salads or the vegetarian sampler. Having ordered one of the salads, I would warn that they are by no means an entree; you really ought to pair it with an appetizer.
On the particular night I made the trip, the special also caught my attention: a chile relleno stuffed with multiple cheeses, polenta, and shrimp.
Drilling down to the food. For myself, I ordered that chile relleno from the specials list and a garden vegetable baby mixed green salad. The salad showed good balance of abundant fresh greens and tiny carrots and squash (all of which seemed to settle to the bottom). It came pre-tossed in a light treatment of a champagne vinagrette and positioned in a stylish asymmetric bowl—with higher edges in the back than front. It's worth nothing that it's pretty far from an entry salad: it's definitely more of an appetizer.
Though the salad was pleasant, it certainly wasn't intended for excitement. The chile relleno, on the other hand, was rather exciting. Imagine a soft poblano pepper with a super-thin, but super-crunchy fried exterior. Rather than taking on a filling of excessive cheese (as is common elsewhere), the Spoon variation included a spectrum of cheeses integrated with polenta and all resting atop pieces of shrimp. I can't call it healthy, but it was an oustanding construction. The single pepper was even small enough that I didn't feel too bad about eating a big chunk of stuffed, fried goodness—after passing some around the table, of course. If you go on a night when they happen to sport any kind of chile relleno, it's definitely something to steer toward.
And that veggie sampler? One of my companions ordered the veggie sampler—which I probably would have ordered myself if no one else had. On the fall menu, that consists of a few sweet potato pierogi resting atop brussels sprouts and onions—all topped off with a few dollops of (thyme?) seasoned foam. The pierogi filling picked up plenty of sweet potato flavor and what I perceived as a rich cream to lighten it up. Others at the table found the sprouts a little bit to crunchy, but I was was actually fairly pleased—probably because I'm such a texture fiend.
The sampler also included a small sample of a butternut squash soup. in this case, the small size was almost necessary. It was rich enough that you wouldn't want to eat all that much. As I understand it, the soup included both poached apples and bourbon, which produced a complex flavor, that was hit-or-miss to each palate. You either loved it or…didn't. I fell on the side of liking it—though only for a small sample. Any more would be too much.
Overall. If you're a foodie in the burgh (and thus busy fawning over Salt of the Earth), make sure you're not negelecting Spoon. I don't think they completely hit the mark of mass appeal on any night of the week, but I do think it's a place that any Pittsburgh foodie really ought to try. In that sense, it's a must-try destination—as much as Avenue B was when I wrote that post. Be ready for fancy (and not casual), but step in knowing that you're about to receive some of the more exciting food the 'Burgh has to offer.
Tags: east-liberty, independent, must-try, newcomer, veggie-okay
6 Responses to "Review: Spoon"
Leave a Reply