Posted by mike | Filed under Reviews
Everybody has been talking about Salt of the Earth. Usually, I try to focus on places that don't get enough attention, so I'm somewhat hesitant to post something about Salt…but I can't resist.
If you haven't been paying attention, Salt of the Earth is the work of Kevin Sousa. He set out to open his own restaurant an eternity ago, and worked to make it a reality while moonlighting at Yo Rita—turning the place into a notable South Side destination. For the past several months, he's been away from Yo Rita and making serious progress on Salt of the Earth. The whole time, he's been informing the world of his progress on Twitter and the restaurant's blog. It's working: he's been generating a huge amount of interest among all types of local foodies.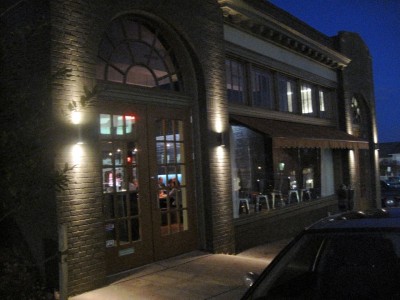 Salt of the Earth
www.saltpgh.com
5523 Penn Ave
Pittsburgh, PA 15206
(412) 441-7258
If you remember my Yo Rita post, you might also remember my feelings on Kevin. In the past, he has made some negative comments about food bloggers without a culinary background and really maintained tough guy persona that rubbed me the wrong way. At the same time, he continues to churn out restaurants I love—leaving me unsure of what to think.
Lately, I've even been told his "tough guy" persona was really only a thin veil—that he's actually an incredibly nice guy. That nice guy seems to come out a bit stronger in his Salt communications, too. Kevin is embracing a bit of a softer image.
What is Salt of the Earth? The basic idea is closely related to the general theme of casual fine dining: provide great food and a good experience without the pretenses of traditional fine dining. If you read FoodBurgh often, then you know that's right up my ally. As much as I like the unstuffy atmosphere, some others might praise the reasonable price. You get food representative of fine dining with a price just a touch above an every-day casual dining establishment. Wins all around.
Well-designed castle but still not imposing. I knew from blog posts leading up to the grand opening that the space was architected by Doug and Liza Cruze, but I still had no idea what to expect of the decor. I had read a blog post on the seating, but that's about the only imagery I had in mind. Having seen the place, the visual scene makes a lot of sense; it fits the expectations I probably should have had. Externally, the building stands like a fortress. Bursts of light shine vertically in between each of the doors and windows, but the overall building appears dark and almost foreboding. Almost.
Inside, the space is open, comfortable and fairly bright. The same chairs and tables pictured in Kevin's earlier blog post fill the entire room with disparate groups sitting right along side one another. That's really an exceptionally good use of space: each group takes up only as much space as they need to. You might worry about dining next to strangers, but I didn't find that to be an issue: the space between groups seemed more than adequate. I hardly even noticed the conversations within the group to my right.
Should you make an reservation? Maybe, but probably not. I went on a Wednesday night and had no trouble getting in without a reservation. I've also talked to others who tried to make a reservation for a week night and were blocked out. That makes sense: the vast majority of the restaurant's seating space is first-come-first-served. That includes all of the long tables in the main room, so reservations really just limit the number of places where you could possibly sit in exchange for a reduction in uncertainty.
Service at the drop of a beer name. No really, I walked in the door, spotted my friends, and sat down. After analyzing the draft list (all four options) and the color of my friend Jen's beer, the words "Heritage Alt" might have slipped out. About 2 seconds later a waiter showed up and commented that he heard me ask for a beer. Maybe that was just a lucky coincidence, but it made an impression. From quality beer (and food) recommendations to a precise overview of every ingredient on our plates, our waiter continued to be amazing: the perfect blend of personality and distance. He even had descriptions of the beer list down pat.
Because I mentioned the size-4 draft list. Yes, there were only four beer options. Yes, that would normally bother me. In fairness, every last option was a good one. The list hit a representative sampling of styles at a the kind of place that might typically ignore the beer list entirely. If you're looking for a gastropub, it's not Salt of the Earth. If you're looking for an outstanding restaurant with a beer list that won't irritate you, then Salt it is. The latter is typically my target model anyway (though there's nothing wrong with a gastropub). Did I mention that the beer goes for just $5? Not bad for fine dining.
An ever-changing menu—with veggie options. There's really no printed menu: it's written on a giant chalkboard that consumes a big chunk of the southern wall. Using a chalkboard makes sense here: the menu's contents rotate fairly quickly—faster, really than the seasons. Based on a side-comment from our waiter, it seems the only thing still on the menu from when the first opened is the pork belly, and that's likely to go soon. They've only been open for a little over a month.
The sections are simple: starters, mains, and ends. The starters ($5-13) really aren't that much smaller than a main. For some of them, I might even call it a meal. In the typical starters list, options include local produce (apples and figs), full on meat (beef tartare), and even a sprinkling of marine life (scallops or octopus). The mains followed a similar trend: some fish, some land-based meat, and two different vegetarian possibilities. If I had to describe the menu generically, I'd say it's a typical fine dining menu with about twice the number of veggie-friendly options. I like the focus on a tight, coherent list, and I like the relative abundance of veggies.
And the food? Is Kevin worth his Salt? Obviously, Kevin is an amazing chef—as demonstrated by his history of successes. I'm even warming up to his personality a little more each day. Still, the question remains: how was the food? I would call it amazing—a feeling enhanced by the exception atmosphere and personable wait staff (and my amazing Friends, Jen and Emily).
For my appetizer, I broke some rules and ordered octopus. The scallops had also caught my attention, and I lean veggie for dietary/health reasons. I tend to be okay with items from the sea—though I've been checking EDF's safe seafood list lately. In this case, the Octopus appetizer included some chorizo (a point I didn't immediately notice). Truth be told, I ate the octpus and the chorizo. I'm more than willing to break some personal rules for a place like Salt of the Earth. The other significant components included blanched almonds and green olives, both of which contributed significantly to the overall flavor and texture of of the dish.
Really, my only food crticism is in the texture of the octopus. I expect octopus to have a little bit of chew—and I enjoy that aspect. Emily really seemed to enjoy the soft texture of the octopus, but I found it to err a little too much on that side. Then again, I'm a weird sort of texture fiend.
For the main course, I went with the Salmon. This entree came served with buckwheat and mashed cauliflower—all tied together with a dark, soy-flavored reduction drizzled around the edge. The salmon flaked as expected and even included a flavorful crust—all topped with cocoa nib chunks (an intriguing choice). The buckwheat and cauliflower even provided some welcome veggie matter. I enjoyed the cauliflower, but the current menu lists Swiss chard—an even more exciting vegetable addition. I'd say the overall meal was a complete win. Normally, I would prefer to end up with a little less food. I'd rather leave want more than starting to get full. In this case, I felt like I could have dealt with half the portion of salmon—probably due to the appetizer.
That one nagging issue. I typically make an effort to avoid discussing a restaurant's bathrooms. In this case, a nagging issue came up in discussions later that night. Because it's something I noticed as well, I'm bringing it up here. The last time I ignored someone's bathroom commentary, it ended up in the comments anyway, so I might as well lay it out here.
Firstly, the bathrooms were beautiful, spotless and everything you would expect from Salt of the Earth. The one seeming oversight: the odor of the soap. Based entirely on odor recognition, we labeled it as Dial; whatever it was, it carried a strong scent. Sanitary, yes, but with a scent that followed you around for the rest of the night. That smell is the last thing you want to pair with your food, which makes this particular choice of soap stand out as the restaurant's one major oversight. If that's the one aspect they get wrong, then so be it; it seems like an easy problem to fix. Then again, if I have to whine about a restaurant's choice of hand soap, it probably means they're doing just about everything else right.
Overall? Pulling my thoughts together, there was really never any doubt that this is a must-try kind of place. For those of you with a bit of price sensitivity, this is the most affordable fine dining food you'll ever find. It's also the most comfortable you'll ever be while consuming that food. Between the outstanding service, quality food, and abundant veggie options, Salt of the Earth is pretty high on my list of quality Pittsburgh destinations.
I hate to cave in to the hype, but there's no denying that Salt stands up to it. Good job guys!
Tags: east-liberty, good-beer, independent, must-try, newcomer, non-veg-meal, veggie-friendly
14 Responses to "Review: Salt of the Earth"
Leave a Reply