Posted by mike | Filed under Beer, Reviews
I know. I've written about Carson Street Deli before, but they recently changed owners and extended their offerings to include the one thing that could have made the place even better: beer. Good beer, at that.
I've been sitting on my notes from my most recent visit for way too long, and the addition of beer definitely means they could use another quick mention. They're not perfect, but they represent a tend that I can get behind: a low key stop to get some dinner, catch up on email, and enjoy a quality beer.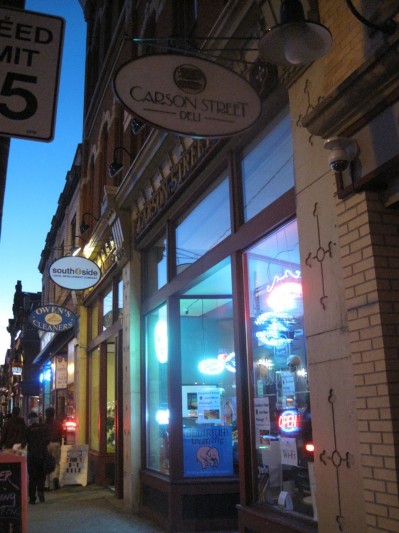 Carson Street Deli
www.carsonstreetdeli.com
1507 E Carson St
Pittsburgh, PA 15203
(412) 381-5335
Carson Street Deli is nothing new to frequent visitors to the South Side. They've been sitting in the same spot and serving up some pretty good deli sandwiches for as long as I've been paying attention. They were even a long-time source of Free WiFi (the focal point of my previous write-up).
The big change appeared when home-brewer and beer enthusiast Mike Murphy stepped in and bought the place. Unlike many ownership changes, he didn't change much at all. The menu remains entirely unchanged, and the WiFi is just as free as ever. The one change he did make was the addition of beer. Without shifting the general layout, Mike squeezed four taps and three coolers full of assorted bottles. Carson Street Deli (CSD) still isn't anywhere close to a bar; it's a deli that just happens to serve beer. I think that's a good thing.
A few good drafts. It's the beer that changed, so I'll start there. Being a deli, there's very little room for much of a draft system; most of the options appear in bottle form. I counted about three coolers opposite the counter all filled with a much wider selection of beer than you would expect in such a limited space. All four draft options are served from behind the counter and include a decent spread of 100% good craft beer. On the night I went, Mike was even pimping an exceptional Belgian Pale Ale. Looking back in his facebook timeline, it seems that night's list included two Belgians and two American Craft beers that night. Mike is a bit of a hop-head (but he should really start announcing his draft list on Twitter).
Don't expect to find a bunch of six packs. To maximize space, each type of beer is filed into just one or two rows of bottles. The actual bottle list is more varied than I would have expected. Most bottle shops I visit fall into a familiar theme of a bottle list—shaped largely by their distributor of choice. That didn't quite feel like the case at CSD. I found a wide range of bottles—including a few options I don't always run into in Pittsburgh. There's clearly some passion (and effort) in deploying the list.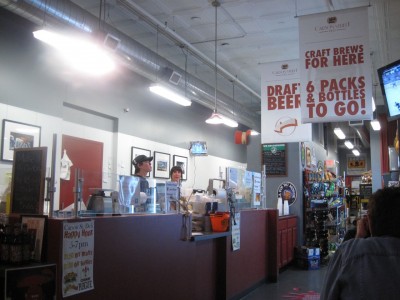 Not much to say about the menu. Deli sandwiches ($6-7) and deli sides ($2-4) round out the entirety of the list. Among those options, I found a handful of vegetarian options, but was hard pressed to find much in the way of a garden salad. Salad toppings may be harder to keep, but the lack of a meal-sized lettuce salad creates a bit of a barrier for me. There are some nights when I'd just rather stick with a light salad—especially if I'm ordering a beer.
Each sandwich specifies a suggested type of bread, but they are only suggestions: the staff seemed happy to switch in the bread of my choosing. In following the trending lead, they also offer to toss any sandwich in the panini press (for another $1).
UPDATE: Turns out, I was wrong on the comment about a lack of salads. CSD offers fresh salads during the day, but pull them out of the display at night. If you twist their arm a little, it sounds like they'd be more than willing to pull one out for you. As with anywhere else, the best way to keep their salads fresh: go there and order one. Show them that you care about good beer and good salad.
When I am up for a sandwich, CSD does a decent job. Because they carry more veggie options than the average deli, it's fairly easy to skip the meat. For my last write-up I picked up a basic Vegetarian Sandwich on a French baguette. While perfectly good, that choice represents the least interesting veggie option on the list. It's easily trumped by a black bean baguette (the Veggie "Burger"), a hummus and veggie filled pita (the Veggie Deluxe), or a more Italian-themed Veggie Roma with mozzarella and a few veggies in another French Baguette.
I won't say that the sandwich list is groundbreaking, but I prefer the quality breads and myriad fillings at CSD to the oversized grease bombs and commoditized cheese steaks of Pittsburgh's better known sandwich institutions. Many of CSD's sandwich options are fairly heavy and even calorie-dense, but only a few really go over the top. I appreciate that moderation.
A staff that cares. On my most recent visit, I opted for a veggie burger. In side-stepping my tendency to stick to the menu, I made some requests: a single patty (who needs two?) and deli mustard to replace the honey mustard. The girl behind the counter took ownership from there—pushing for slices of bread instead of a baguette after I requested the panini option. Her comment: this is going to be the best black bean burger you've had. Whether or not it's true (or she even meant it), it was a nice gesture. It felt like she actually cared.
Good but not quite healthy. Aside from my own faulty decision to combine lettuce with a panini press, the sandwich was good. They opted for a black bean patty nearly identical to what you might get from Morning Star Farms—mimicking the only commercial veggie burger I keep on hand. I opted for pepper jack cheese and whole wheat bread from a loaf that I suspect they had delivered Breadworks (i.e., good bread). The whole thing came together well: plenty of texture from thick slices of bread with the spice of the "burger" still able to through. It wasn't exceptionally healthy, but I didn't feel too bad about eating half for dinner. They gave me the flexibility to construct a tasty and reasonably healthy option; really, that's all I ask.
You should go. It's no Salt of the Earth or even a Thai Suan Thip, but it doesn't try to be. Carson Street Deli serves up a nice atmosphere, a clean look, free WiFi, and good beer—not to mention a quality sandwiches (veggie and otherwise). That all rounds up exactly the mix that I look for in a restaurant. The only real downfall: the lack of a decent salad.
If you're in the South Side and looking for a low key place for good food and beer with minimal fuss, you have every reason to stop in. If you're looking for a salad or really anything beyond a sandwich, then keep on walking.
Tags: freewifi, good-beer, south-side, worth-a-shot
5 Responses to "Second Take: Carson Street Deli"
Leave a Reply