Posted by mike | Filed under Reviews
If anyone knows where the name "Thai Suan Thip" comes from, please let me know. That's the name of the restaurant that has made their way into the old Mojo Bistro space. When Mojo Bistro was closing, the owners told me that a Thai restaurant would be moving in to replace them; they just didn't have many details. At the request of a friend, I recently checked in on the incoming Thai restaurant's progress: though hard to tell from the web, the new place is definitely open. The problem: other than a phone number on the now-defunct Mojo web site, the restaurant is barely mentioned online. Given the situation, I had to stoop so low as to actually call the place to confirm they were even open. Shudder.
After calling, but still armed with minimal details, I took the leap and made my way out to Bellevue to give the new place a try. I was very glad I did.
NOTE: Thanks to some helpful readers, I did eventually figure out the history on the name. Thai Suan Thip literally means "garden of the heavens." It's the name of a beautiful garden in Thailand and — at least one commenter notes — it's the site where the owners were married. Thanks to everyone who posted an explanation!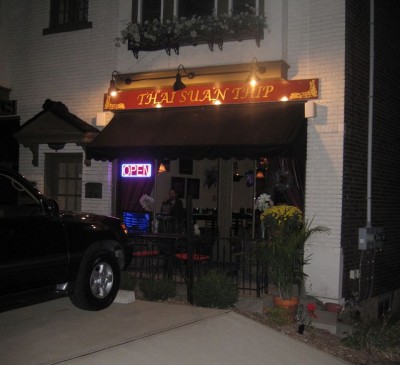 Thai Suan Thip
(somebody needs a web site)
172 Lincoln Ave
Pittsburgh, PA 15202
(412) 766-1899
Now…it's about time I take a stab a documenting the existence of place on the web.
A one-room restaurant. Sadly, I had never been to Mojo Bistro; Thai Suan Thip was my first exposure to this space. The single room restaurant is small—even more so than I expected. Despite the small size, I felt ample space between tables—they didn't feel over-packed. With a single dining room, I suspect there wasn't any structural change between Mojo and Thai, but the interior decor must have undergone a major overhaul: the space is very highly decorated with Asian-themed figures and artwork throughout the space—especially in the rear toward the kitchen.
When I went, the tables were pre-set with complete place-settings and 3D napkin foldings. With only a single room, a single waiter could cover the whole restaurant. On the week night when I made my way over, there were only a few tables in use, so we really had our choice of where to sit.
When they brought me a pint glass. Thai Suan Thip is a BYOB establishemnt—that's one of the details I called to confirm ahead of time. Usually, when I bring my own beer, restaurants look at me funny. It seems that many restauranteurs always consider BYOB to mean "Bring Your Own Wine" (strange, I know). Usually, that means that no one has any idea what type of glass to bring out when I pull out a beer. Typically I end up with either an over-sized hexagonal water glass or a wine glass (of the two, I prefer the wine glass). TSP TST ("Thai Suan Thip"), on the other hand, brought me an actual pint glass. That's how they scored their first points.
I've always wavered in my feelings on BYOB. On one hand, it gives me the opportunity to take control of my beer options and eliminates uncertainty over the quality of my destination's beer list. On the other hand, it makes for one more piece of planning—and one more detail to verify before I show up. In this case, I'd say it worked out well.
Mid-sized menus are just fine. For a Thai restaurant, the menu was relatively small, but that's not a bad thing. As one would expect of any Asian restaurant, many items represented variations on a small number of preparations: curries, fried rice, noodle bowls, and the ever-popular house specialties. I can't find the menu online, so it's hard to pull much more detail from memory. I can say that they menu also includes a fairly wide range of soups—and even a desert list (one that we weren't even prepared to hear).
Being a Thai restaurant, it goes without saying that vegetarian options were available all over the place. Tofu is one of the "meat" options for just about every item on the menu. Turns out, that's a protein the Thai are quite good at preparing.
To start: some fresh spring rolls. In continuing a bit of a tradition, we opted for fresh spring rolls to start off. As you can see in the photo, the presentation was beautiful: complete with a little umbrella popping out of a piece of carrot on the plate. Our server explained that the umbrella was an homage to the "spring" in "spring roll"—an item traditionally prepared in the spring and summer months. Think of it as something to block the bright sun.
The biggest flavor coming out of the spring rolls: mint. Thai Basil can be hard to source, but I've read that it's flavor lies somewhere between the basil and mint that we know an love. For the spring rolls at TSP TST, I picked up a big dose of the mint—almost as if the rolls included both basil and mint. Then again, perhaps they even included actual Thai Basil, and I had no idea that's what I was eating.
1
Emily's pumpkin curry. Based on a friend's suggestion, my date (Emily) ordered the pumpkin curry with tofu (no really, she likes Tofu). This one came served in a bowl—almost like a soup of coconut cream, pumpkin, and tofu. The bowl was served with a big spoon and large mound of white rice on the side. The pumpkin itself, really came through—which is often hard when you're talking about pumpkin. For heat, level, Emily had opted for medium, and the dish came out just under the level of heat that I would have expected. If you're going to land on either side of the spectrum, I suppose that's the safer way to go.
My spicy basil order. I order spicy basil entirely too often when I go out for Thai or even Chinese (though the resulting dish differs). In this case, I was avoiding the curries to ensure that we ended up with two distinct dishes on the table. At first, I thought I might go for a dish TSP TST called "garlic and ginger," but the description for the spicy basil pulled me in. Upon receiving my plate, I was quite impressed: lots of fresh crunchy vegetables with a moderately spicy brown sauce (more so than Emily's curry). Given a choice of meat, I opted for shrimp—thinking it would work well with the dish. If you're not all up on the seafood (as I am), then the tofu option would be a better choice (and probably be just as good).
Awesome staff. Right before we got up to leave, we received a quick visit from the executive chef: it seems we had shown the waiter just a little bit too much enthusiasm for the food. I get the feeling the waiter and chef were the only two people in the place, and both were quite grateful to have succeeded in pleasing their guests. To me, that's what makes a great restaurant: an environment where the entire staff is there because they want to provide an experience and a meal that their guests will enjoy. Thai Suan Thip was that kind of place taken to the extreme.
In case you can't tell, I'm thrilled with Thai Suan Thip. It's exactly the kind of restaurant I enjoy: food packed with flavor and healthy enough that I don't have to feel guilty for three days. Add to the mix an awesome staff that seems to care deeply about pleasing their guests, and there's little doubt that it's a must-try kind of place. If you're a foodie in the 'Burgh or just happen to like Thai cuisine, I highly recommend making your way out to Bellevue to give them a try.
Tags: byob, must-try, pittsburgh-north, veggie-friendly
23 Responses to "Review: Thai Suan Thip"
Leave a Reply