Posted by mike | Filed under Beer, Reviews
I've been to Ruggers something like three times now, and I never seem to get a chance to actually write about my experience. Despite the lag since my last visit, I'm going to write up some thoughts—just because I really think they deserve more attention than they seem to get. When you're looking for a low key bar with a decent list of craft beers on tap, it's well worth venturing off the main Carson Street drag to seek the place out—as long as a little smoke doesn't bother you.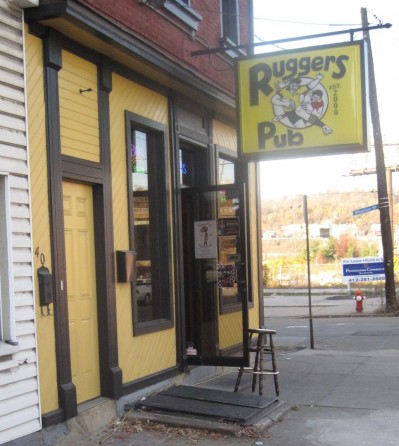 Rugger's Pub
www.ruggerspub.com (a work in progress)
40 S. 22nd St.
Pittsburgh, PA 15203
(412) 381-1330
Ruggers first came to my attention on Twitter, after I bumped into one of their bar tenders at the PodCamp after-party (@pghrugbyangel). Based on the limited information I could dig up on the web, Ruggers seemed like exactly the kind of place I like to seek out: the under-appreciated and somewhat unknown local joint. After that initial digging and some friendly Twitter-prompting from Claire, I decided to give it a shot.
The "Ruggers" name highlights backing from several members of the Pittsburgh Rugby Club. I've also heard that it's owned by the same guy that owns Patrick's Pub up in Moon Township. It's certainly not really a foodie destination—or even a beer destination, for that matter. Instead, Ruggers is more of a relaxed bar that manages to steer clear of some of the South Side's more obnoxious revelers. Similar places can be found both on and off Carson Street, but the crowd at Ruggers is distinctly different: a little younger and a little more interested in good beer and better food. Perhaps even more significantly, the menu is far more than a little vegetarian-friendly.
Not a full-sized restaurant. The space is familiar: an elongated corridor with the bar running almost the full length and a handful of tables along the opposing wall. The kitchen, bathrooms, an extra table and a juke box are all packed in toward the back. With limited bar tables—easily outnumbered by seats at the bar, there's really no need for a designated wait staff; both times I went for food, I just stopped up by the bar and asked for a menu.
The staff is friendly, though chatty. They seem to occupy a common social circle, so it's easy to show up and find the most interesting conversation taking place behind the bar. If there's no one else around, I can't blame them—it just makes for an odd environment to pull out a laptop and work.
Minimally annoying WiFi. Speaking of my laptop, the WiFi network is free—though protected by a password. I'll be kind enough to leave the password out of my review, but it's the kind of thing you only need to ask for once. Easy to pull up on a second visit. I'll be the first to say that any WiFi password is moderately annoying but probably sensible. That said, a static password is still far more welcome situation than the time-limited Green Light service I've run into in some places.
A handful of smokers. I'll probably be called out if I don't mention the smoke, so I'll come out and say it: Ruggers is a somewhat smoker-friendly bar. That's not to say it's entirely smoke-filled or that everyone in there is smoking: it just means that you might run into someone smoking at the bar. I don't consider smoking to be a big deal: for whatever reason, it never bothers me. If it does bother you, then at least you've been warned.
Plenty of craft beer draghts. For a small place with just a handful of draft options, the beer list is really quite good. They have a nice representation of styles from Edmund Fitzgerald (my favorite porter) to the Church Brew Works Celestial Gold. In the time since my last visit, the Ruggers site is even online—listing more draft options than I knew they had space for. They certainly aren't afraid of to run a Labatt special during a Penguins game, but adjunct lagers are certainly in the minority.
Standard menu with some veggie options. The menu isn't online for me to review in detail, but it certainly doesn't contain any surprises—except perhaps it's size. For a small place with a tiny kitchen, the menu is actually fairly large. I found sandwiches, salads, wraps, burgers, and soup. Rumor has it, the veggie burger is made in-house (not just a frozen patty). I've also found that their salads are pleasantly large: even the half-sized salad is around the size of any other restaurant's entree salad.
First trip: the veggie wrap. The first time I hit up Ruggers, I ordered a veggie wrap. Filled with pieces of Ruggers' homemade veggie burger, grilled pepper and onion, and even some tomato sauce, there were definitely a number of flavors floating around inside. I'm not one to order fries, but I noticed that pickle chips happened to be an option. Not having ever heard of (or consumed) a pickle chip, I went for it. I'd say the pickle chips were interesting, but probably not worth the points. The wrap was good, though. A nice non-salad option for vegetarians. I won't say it was exceptional, but I'd definitely order it again.
Second trip: the garden veggie salad. My second trip was an odd day for me: a Saturday with a mixed up schedule. I ended up at Ruggers on a Saturday afternoon (around 3pm). It was still light out, and I was basically the only person there. That gave me a chance to get some decent photos and a chance to try another menu item: the garden veggie salad. Afraid it might be a tiny salad, I tried to order an entree version. The bar tender warned that even the half-portion was huge. With that input, I opted for the half-salad—and was surprised to see that it was about the same size as any other restaurant's entree salad. I would be afraid to even see what the full-sized salad looks like.
Though the salad was big and topped with all sorts of vegetables, I must say it carried an off flavor that I couldn't quite place. If I had to guess, I would say it came from the roasted pepper topping—which obviously came from a jar. If I ordered again, I'd likely opt to go without the peppers. There were plenty of other vegetables anyway.
I'm a supporter. Ruggers is the type of place I like to support: Local, different, and trying to do the right thing. Their staff seems to care about making customers happy, and the menu can be taken in any direction you like: veggie options, enormous salads, soup, or even more traditional bar fare. I won't say the food is anything write home about, but I will say the beer list is surprising. If smoke bothers you, then I imagine you'll just stay away; other than that, I'd say it's worth a shot. If you're tired of some of the other Carson Street mainstays, then I'd say it's definitely time to give Ruggers a try.
Tags: freewifi, good-beer, independent, south-side, veggie-friendly, worth-a-shot
3 Responses to "Review: Ruggers Pub"
fruntz Says:
February 4th, 2011 at 5:31 pm
Leave a Reply