Posted by mike | Filed under Beer, Reviews
I'm not a big fan of Mount Washington. That may be a somewhat blasphemous position to take, but I don't think I'm alone (am I?). Sure, there's a great view and a chance to ride the incline, but most of the restaurants just don't stack up. The ones I've been to are dated at best: stuck in an era when a stagnant menu and stuffy atmosphere were sufficient to impress the city's moderately high end diners. Thankfully, that era is over.
Over the past few years, we've grown as a city. A burst of casual fine dining has brought quality food without the oppressive atmosphere; dynamic, often seasonal, menus have become the norm. More in line with my interests, some of the city's best restaurants have even started opening previously bland draft lists to more interesting beer options. I would even say it has become a little rare to find draft list dominated entirely by industrialized adjunct lagers.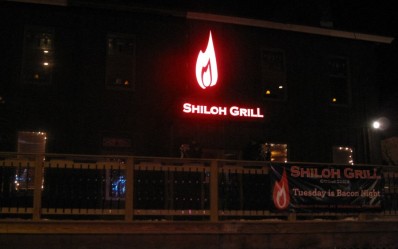 Shiloh Grill
www.theshilohgrill.com
123 Shiloh Street
Pittsburgh, PA 15211
(412) 431-4000
In many ways, I view the current owners of Harris Grill as an early example of those trends: they've had a great beer list for as long as I can remember and casual is the rule of their game. The food is notable, but probably not exceptional—at least relative to my own biases. It's all well prepared and consistent, just not the type of food I usually go for. For example, you've probably heard of "bacon night" (Tuesday).
Despite the caloric minefield, there are some healthful options—even good number of vegetarian options. Whatever your leanings, you're more than likely to find something that fits your diet—unless you're dead set on vegan options, which are shamelessly bashed on their menu. Of course, Harris has always augmented that culinary baseline with a dynamic list of draft beer options and moderately impressive list of bottles. Merge the food with good beer and you have a place worth getting excited about.
What does Harris Grill have to do with the Shiloh? Everything. The same owners that made Harris Grill what it is today are renting the space that was formerly Shiloh Inn. At the end of last year, they opened it back up in the image of Harris. Actually, the renovation was completed so quickly that I didn't even hear about it until it was finished (via Bill Toland's story in the Post Gazette). By that time, Grill #2 was basically up and running, and I had no choice but to go check it out.
Eerily similar setup. The scenery at Shiloh Grill is strikingly similar to what you might find at the Ellsworth location: two floors, similar decorations, and even a front porch (really, more of a deck). They also share the same branding: the flame logo.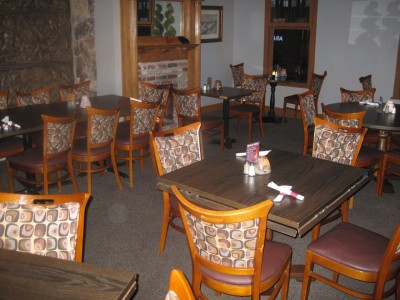 I didn't spend much time on Shiloh's first floor, but I did note that the second floor feels just a little bit nicer than Harris—even a little bit upscale. That's not to say it's any less laid back—the web site assures that point with a rather loose dress code for their new year's party. That is to say that I noted the tables are a bit more spread out and the walls are a bit brighter—with two-person tables positioned next to eat of several smaller windows. The working fireplace drives the upscale point even a little further.
By the way, if you're looking for the that dress code: "proper attire consists of keeping the bathing suit areas covered at all times while on premises." I see no similar rules on the Harris site, which I suspect just means they're fending off any stuffy Mt Washington expectations. For humor value alone, I hope they keep it up for a little while.
Craft beer before it was cool. Don't get me wrong, craft beer was always cool; it's just getting easier and easier to find good beer in Pittsburgh's restaurants. The Harris Grill was an early adopter of that trend, and Shiloh Grill maintains the same focus. Though not listed on the web site, I seem to recall about a dozen draft options and multiple pages of bottles—all conveniently organized by style.
Perhaps even more notable than a good beer list is a staff that has something to say about it. It's easy to add a few beers to the menu but much harder to nurture a culture that embraces it. I've been to far too many restaurants with waitstaff—and the even bar tenders—are completely unable to accurately describe something from the draft list. Neither of the Grills is like that. On my most recent visit to Harris and my first visit to Shiloh, I ended up with a server that really knew something about beer. At Shiloh, I even ended up chatting with our waiter about homebrew.
That all-important server rapport. I have never met a Harris or Shiloh employee that I didn't like. The servers are truly amazing, and the people I worked with to plan a beer meetup bent over backwards for our group. Even beyond knowing something about beer, the servers are consistently on-key and friendly. They are keenly aware of the perfect amount of conversation and interesting enough that you want to go back just to see your server again. To drive that point home, I'm still facebook friends with our server from the beer meetup.
Bar food with attitude. Reading the menu for either restaurant is always entertaining. Filled with cultural references and irreverent commentary, it's worth spending some time reading over the whole thing. Somewhat ironically, my favorite piece of humor is the one that comes closest to making fun of me. There's an icon for menu items that are both dairy free and gluten free—and also suitable to NPR listeners: that icon just doesn't appear anywhere outside of the key. Also, said icon is a soviet-style hammer and sickle. Laughing at yourself is a good thing.
Veggie-friendly, but often unhealthy. Like I said up top: beyond the humor value, I have mixed feelings about the menu's contents (pdf). On one hand, it shows off vegetarian options in just about every section. At the same time, a number of those options are anything but healthy—good for some but somewhat counter to my own goals. Remember, I lean veg for health reasons more than anything else. Between that and bacon night, they're catering to a crowd that's willing to throw health out the window. That said, the Shiloh menu does list a few options that caught my attention, and I'm sure they'll all find their way into a future visit: "labor-inducing vegetarian chili," "quickie salad chop chop" (though I'd skip the bacon/chicken), and the "garden weasel."
To start, the Calamari Mata Hari. Proving that I'm pretty far from actually being a vegetarian (or even much of a health nut), we ended up starting with a fried calamari appetizer. This was was well presented with a bit of a twist: rather than any type of dipping option, the fried tentacles were pre-blended with a curry-based seasoning. The flavor was a unique twist that made for an appetizer well worth trying.
For dinner, A Craw Full of Falafel. I'll give this dish a second-best rating. The falafel was good, but the sandwich somewhat sparse. There wasn't much content beyond sauce and a sparse treatment of diced cucumber and tomato. That lack of variety left a sandwich with limited flavor depth and not nearly enough veggies. The flatbread substrate wasn't anything to write home about either. Overall, the sandwich wasn't bad—it just could have been much better.
I did have the option to use a garden salad as my side. I did, and it was overflowing with some nice greens and fresh veggies—not to mention a pretty good vinaigrette on the side. I've actually started to see more and more iceberg lettuce cropping up in salads around town, but the side salad at Harris ignored that trend: half my plate was filled with mixed field greens. That salad experience foretold good things of their entree salads, which I would love to hit up on a future visit.
On the other side of the table, the Garden Weasel. I think Emily made the better choice on dinner with her vegetable-filled sandwich. The weasel is basically a ciabatta roll stuffed with a pile of veggies. It was bursting several layers of flavor. Between the mozzarella and pesto mayo, it's less healthy than a salad but still well worth the points—certainly more so than my falafel. I would definitely order it again—sometime when I'm not in the mood for a salad.
The Twinkiemissou. Almost. The dessert menu (pdf) lists multiple options that fall into the category of things I wouldn't normally subject myself to. One in particular is probably the last thing I would ever imagine ordering: "Twinkiemissou." Naturally, we order it—or at least tried to. As it turns out, they were out of said dessert and offered up a pumpkin roll instead. We went for it, and I was pleasantly surprised. The pumpkin roll flaunted a thoughtful presentation and plenty of flavor. Overall, it was a dessert wroth eating: just like the pumpkin roll you would want to see at an autumn-themed party.
Overall. I'll be the first to admit that neither of the Grills' menus is catering to my tastes, but I do think the entree salads hold promise. That's probably exactly what I'm ordering next time. Even the hope for some goo salads makes an important point: the grills both serve something for everyone. They somehow manage to please everyone from me (the salad's biggest fan) to someone more likely to drool over bacon night. That's no easy task, and I respect any restaurant that can pull it off. Add some beer and an indescribably amazing staff, and you have a restaurant worth getting excited about. I would even call the Shiloh/Harris pair a must-try pair: you owe it to yourself to check at least one of them out.
Tags: freewifi, mt-washington, must-try, veggie-okay
7 Responses to "Review: Shiloh Grill"
Leave a Reply