Posted by mike | Filed under Miscellaneous
As many of you know, I'm a big fan of the independent sandwich shop with free WiFi (prime example). The source of my love is twofold: a good sandwich and a low key place to pull out my laptop. I frequently try to stop at a coffee shop on my way home from work to catch up on reading, blogging, and all those other aspects of my life. The problem with that trend: I often leave work at a time when should really be thinking about dinner. Coffee shops are great for WiFi (and coffee), but they're miserable with food. The deli-with-WiFi concept gives me a chance to order something remotely healthy to munch on while I work. Everybody wins.
When Jeff Bearer suggested that I give Zuppa's a try, I added them to my list. The Wexford location is relatively close to where I work, so I made a point to stop in one day on my way home. What I found was a freshly minted local business: friendly owners working hard behind the counter and a unique menu showing off their particular take on what a sandwich shop should be. It's good to see another independent restaurant up in the North Hills.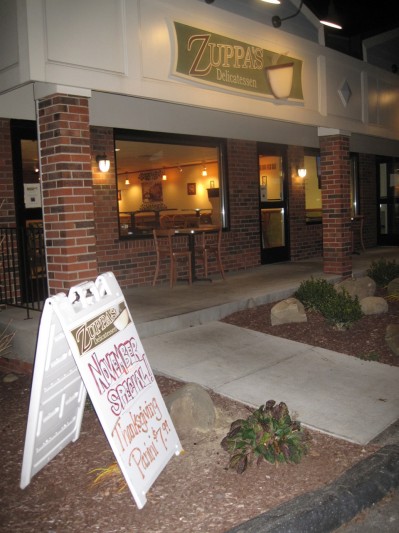 Zuppa's Deli
www.zuppasdeli.com
10850 Perry Highway
Wexford, PA 15090
(724) 934-4700
Zuppa's is new in the area: they opened just a few months before my first visit. The theme is sandwiches and soups. They also offer some salads, but I don't think that's a focus: Zuppa's main success lies in the sandwich—and, almost necessarily, the soup. After all, zuppa is the Italian word for "soup."
Founded by three friends late last year, the stated goal is to be the best Italian deli in Pittsburgh. That's a lofty goal, but I respect the spirit. From my own interactions with the owners, it's very clear that they care deeply about every customer's experience. I was more than a little impressed that they remembered my name when I stopped by for a second visit—more than a month after my first. In my experience, running into a non-owner is a somewhat rare occurrence.


Think Suburban Deli. In the city, we have all kinds of unique little sandwich shops. Outside the city, the choices thin out dramatically. Subway. Jersey Mike's. Dibella's. Loafers. Some are better than others, but they lack character. As a regional chain, Loafers has more personality than the others, but their sandwiches are so-so at best. They're more about bread and cookies than what falls between the slices. In the 'burbs, that's the competition for Zuppa's—it's probably what their customers are used to. That's a whole different ballgame from the scene in the city.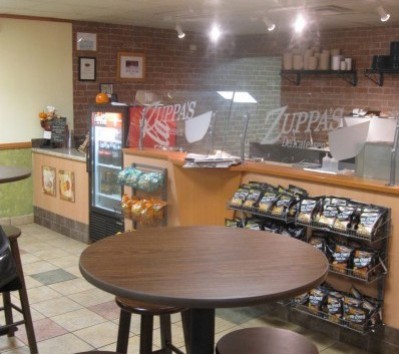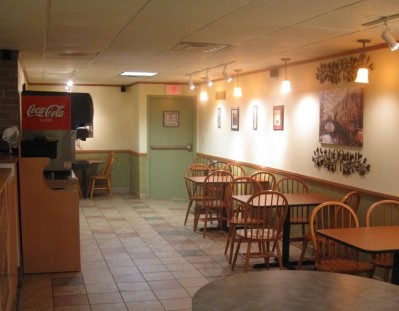 Freshly minted but distinct. Having just opened in a suburban plaza, Zuppa's looks very highly finished—to the point that you might think it was backed by some larger corporate entity. They're not. Between the brick backing to the counter, the hand-written chalk board menu, the textured green base of the walls, and a spattering of framed wall art, the look is a mix of personal touch and suburban plaza uniformity. It looks like they invested some time and effort to make the place their own, but the starting point is a cookie cutter space.
When you first walk in, you're greeted by a counter and the aforementioned chalk board menu, which is also available in paper form. The big writing is legible, but it was just a little strange to keep turning around to look at the wall while I tried to place an order. Past the counter lies the tables. A handful of high tops up front give a little character and contrast with the more traditional tables the back. Also in the back: fountain soda and associated accessories. About the only real oddity is the bathroom, which is in the back hallway—shared with a the karate school next store.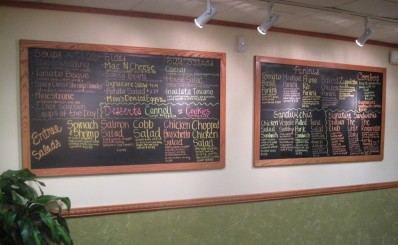 Sandwiches. Salads. Soups. The menu is actually fairly lengthy: 6-7 salads, a dozen sandwiches and 6 different soup options (2 changing daily). The salads certainly don't step past any boundaries, but the list successfully evades the dreaded Pittsburgh "salad." I was most intrigued by the Spinach & Shrimp and Salmon salads, though be warned that the spinach and shrimp option defaults to a warm bacon dressing. The three "side" salads were the only truly veggie-friendly options—even then, only if you opt out of the bacon where necessary.
Sandwich-wise, I noticed much more creativity. It seems this is the founders' true passion. A tramezzino/panini division leaves one veggie-friendly option on each side: tomato basil on the panini side and the "veggie sammy" on the tramezzino side. The meat-based options are equally artistic—filled with some unexpected ingredients and details. With a list of ingredients spanning from olive tapenade to pine nuts to fresh arugula, the options sound eerily similar to fillings from my favorite sandwich shop in town. A very good thing.
Six different soups. Really. At least, that's what they menu boasts; I haven't asked for a full enumeration in any of my visits. The list actually reminds me of the daily homemade soup options from Stoke's Grill—located a little further in toward town. Being a fan of well-made soup, I appreciate the quantity. With four standard options, I suspect that they carry at least one familiar favorite for everyone—then top the list off with a little variety for those who want it. Of the static options, I'm most interested in the minestrone and corn & shrimp chowder. I've heard other guests rave about that chowder.
Visit 1: Soup and Sandwich. For my first visit, I skipped my usual salad and opted for a half sandwich and soup combo: half a Veggie Sammy with a cup of Minestrone. Having now experienced a salad, I'm glad I started there: the sandwich was excellent. The lightly grilled zucchini, roasted portabella and spinach were excellently combined in a very reasonably sized portion—not anywhere close to too big. All the ingredients were fresh and in excellent balance with a touch of heat from the chipotle aioli and a hint of richness from the mozzarella. I was thrilled with the magnitude of vegetable matter in comparison to cheese.
The soup was less exciting. The menu called it Minestrone, but the actual serving felt far more like a run-of-the-mill vegetable soup. Crunchy cabbage was a nice touch but the accompanying beans, potatoes, pasta, and tomato could have used more flavor—perhaps some more acidity or even a peppery bite. I also wish it would have been served a little hotter, but I also wasted a precious minute of heat fumbling with my camera. At least part of the moderate temperature is my own fault.
Visit 2: Salmon Salad. I'm a salad person at heart, so I opted for the salmon salad on my second visit. My order was quickly followed by a warning that it would take a few minutes to cook the salmon. A good sign–and one that foreshadowed reality: the salmon was surprisingly good. The fish was warm, flaky and full of flavor—though still not on the level of having grill marks or seared exterior. That was a little disappointing, but not horrific—especially in the context of a sandwich shop. Somewhat more disappointingly, the salad came pre-dressed—excessively, so. Somewhere under a thick application of dressing, I saw plenty of lettuce, feta, and diced tomato but I would have been wise to ask for the dressing on the side. That said, the honey balsamic was a nice match to both the feta and salmon.
I like Zuppa's. They're they type of business that I like to support: serving quality ingredients, incorporating a few healthful options, and taking time to consider what every customer perceives. They're well worth a shot. I have a few issues with particular executions, but much of that has to do with my own preferences: salads with dressing on the side and soups served just short of scalding. Based on only a few visits to each, I would say that you should head to Zuppa's for sandwiches—above just about any other destination in the North Hills. For soups, I'm more impressed with Stokes. For salads: well, you really have to step up to another style of dining and hit up Aviva. Worth noting: any of the three will let you BYOB.
The fact that I can rattle off that kind of list suggests that the North Hills bring options—to a much larger extent than just a few years ago when I started working in the area. The whole area is starting to be worth talking about.
Tags: byob, freewifi, independent, pittsburgh-north, veggie-okay, worth-a-shot
9 Responses to "Review: Zuppa's Deli"
Leave a Reply