Posted by mike | Filed under Beer, Reviews
I get excited about all kinds of restaurants. There are those restaurants that any foodie would love, those that embrace a healthy dining experience, lunch-oriented sandwich shops—and, of course, those that know how to build a good beer menu. The unifying theme is that they're all small businesses at heart—anything but a cookie-cutter replica of the same old place. If anything, Fiddler's fits into the third group: the beer-centered establishment with decent food. That's not to say it's another Bocktown or Sharp Edge, but their beer list outdoes many other restaurants in the genre—especially for the North Hills (though even that is slowly changing).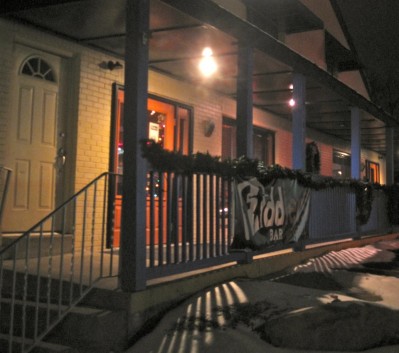 Fiddler's Bar and Grill
www.fiddlersbarandgrill.com
9101 Perry Hwy
Pittsburgh, PA 15237
(412) 635-2300
You may already know Fiddler's by another name: Magoo's. That seems to have been the name of the restaurant before their recent re-branding. The ownership hasn't changed, and I'm told the interior hasn't either. The "big" change is really a slight modernization of the menu. As far as I can tell, that's code for a few veggie-friendly options plus some 90's-era foodie highlights: sun-dried tomatoes, goat cheese, and the like. It's still not a vegetarian or foodie mecca, but the slightly modernized options are welcome.
Not quite hidden up North. The North Hills is a broad region, so I'll define the location a little more clearly: Perry Highway in McCandless Township—a little South from where Mcknight splits off. The building is well marked, so it's not hard to find if you're on the right road. The parking lot is somewhat disorganized but seems to have plenty of space.
Inside, the restaurant is pretty well separated between the bar (near the main entrance) and a big dining room (on the opposite side). I'm guessing the two sections are split 1/3 – 2/3 with the dining room winning out for the large space. On both sides, the tables are clean and ready for customers—with place-settings set neatly on each table in the dining room. My only real problem with the layout was the lack of a host table or obvious way to grab a table, which could have made for some confusion had I been going for a table in the dining room.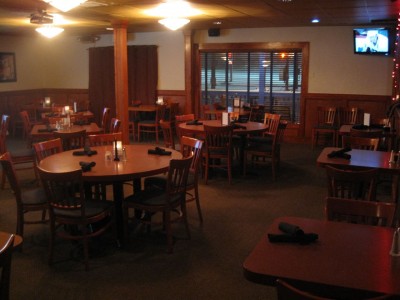 Doubly awesome bar tender. On both of my visits, I just stuck to the bar an ordered food there. It's hard to suggest that a bar-experience says anything about the waitstaff, but I can at least say that service at the bar was excellent: friendly, full of both food and beverage suggestions, and more than able to describe any of of the draft options. There's a huge difference between restaurant staff that awkwardly keeps their distance and those that know they can but in and comment. The bar tender made for a good example of the more personable type.
That same bar tender took care of the beer meetup (no easy undertaking) and really went above and beyond in making our event fun. She kept everyone's glasses full, made us smile, and even washed and distributed our free Troegs pint glasses from @DMWatters as we packed up to leave. On both occasions, the Fiddler's staff really showed that they cared about keeping customers happy.
About that modernized menu. The menu lists the standard fare for a casual bar and grill: assorted appetizers, soup, salad, burgers, sandwiches. The only outlier was the flatbreads, which are really just assorted toppings baked onto a roughly square sheet of dough. The result is something much like a white pizza with toppings that seem to draw from a deli (spinach, pesto, sun dried tomato, cheese steak and a few others).
As far as menu changes go, I don't have an old menu to compare but that doesn't stop me from guessing. I have a hunch that the fish taco and sun dried tomato appetizers are among the menu's new additions. The dinner salad with shrimp and cilantro-lime vinnaigrette is another candidate for a fairly recent introduction. The Tribune-Review (my source of the "modernization" claim) also seems to indicate that the entire flat breads section can be counted among the new menu arrivals. Giving some of the toppings, that seems to make sense as well.
Vegetarians beware. I always try to make a point to call out healthy and/or veggie-leaning menu items, but that's honestly one of Fiddlers' stumbling points. There are a two vegetarian appetizers, but it's not clear that either is even moderately healthy. The sundried tomato and goat cheese hummus might be reasonable—depending on the level of goat cheese, but it's hard to imagine the spinach and artichoke dip will leave your calorie budget in tact. The balsamic roasted vegetable wrap was really the only other menu item to catch my eye. There are a few other vegetarian flat breads and entrees, but nothing that I can really get excited about. They don't even offer a vegetarian dinner salad.
I'm lucky in the sense that I have no problem eating fish, and the Fiddler's menu opens up quite a bit if you welcome the sea into your diet. The mahi mahi fish tacos instantly grabbed my attention; as did the seared salmon and cilantro-lime shrimp salads. Other options were interesting, but not particularly attention grabbing.
My fascination with fish tacos. For whatever reason, I find myself drawn to the the fish taco. Everyone has their own interpretation, so it's the type of item that you can try at 10 different places to find 10 completely different constructions. That also makes it a good indicator of any restaurant's capacity for creative presentation. In the case of Fiddler's, the specific menu item was a set of three mahi mahi tacos—as an appetizer. I would call them more of a meal.
My tacos had some positive execution points but also some negatives. First, the presentation was lackluster. The rolled tortilla exteriors served to hide each taco's contents while tiny lime slices (not wedges) sat awkwardly between each roll. Compare that presentation to something like the Sharp Edge and you'll know why I'm complaining. Flavor-wise, the fish was nicely cooked: flaky but not without texture. There was a slight hint of heat that felt a little like a sprinkle of cayenne, but that heat had to compete with a little more salt than I would hope for.
On the plus side, the tacos did feature a nice spicy slaw with a mostly vinegar base—the way all fish tacos should be. Overall, the tacos weren't at all bad; they just exhibited some room for improvement. With a little less salt and a more appealing presentation, I wouldn't have any reason to complain.
On flatbread. I had a chance to try a piece of some of the flat bread while I was at the beer meetup. I don't have too much to say, but I wanted to at least note that they were better than I expected. The cheese and toppings were applied with a great deal of restraint, so the resulting dish was well balanced and less unhealthy than expected. The bread was a little on the thick side, but there was still room for a variety of flavors to merge into each bite.
Oh, the beer list. Fiddler's is rather short on drafts—I counted only 8. Two slots go to macro-lagers, two go to Yuengling and Guinness, so only four are left open for real craft beer options. The remaining four were all good beers with a decidedly local trend: Oskar Blues Old Chub, Troegs Hop-Back, Erie Ol' Red, and Victory something or other. Of course, the four craft drafts aren't the only options: about 20 bottle options supplement that list with stuff from Dogfish, Great Lakes, and several others. Overall, the list was pretty reasonable, though it's clear they need more throughput to support more kegs and faster turnaround on the kegs they have. That's really the chicken and egg problem of the craft beer world.
I like Fiddlers. That's not to say the place is a new favorite or the next destination for the Blogger meetup. Really, it just means that they're doing more than a few things right. The menu could use a few more veggie options and the food has a little room for improvement, but they seem focussed on making things better. With a decent beer list, free WiFi, and an amazing staff, it's the kind of place that can very easily draw me back. That lands them squarely in the category of worth a shot.
Tags: freewifi, good-beer, pittsburgh-north, veggie-okay
One Response to "Review: Fiddlers Bar & Grill"
Andrew Says:
February 7th, 2011 at 4:24 pm
Leave a Reply