Posted by mike | Filed under Beer, Reviews
When I first heard that Point Brugge was opening up a new restaurant, I was excited. When a Canadian friend pointed out that they would be serving traditional Montreal poutine, I was intrigued. The original location has a great reputation for serving up some good Belgian cuisine and a pretty good selection of beer. The biggest problem: they're always packed. It's nearly impossible to go with a group, and even a small gathering can translate into a lengthy wait. In time, I'm afraid Park Bruges will be very much the same, but there's some hope that maybe the new location will take some weight off the old.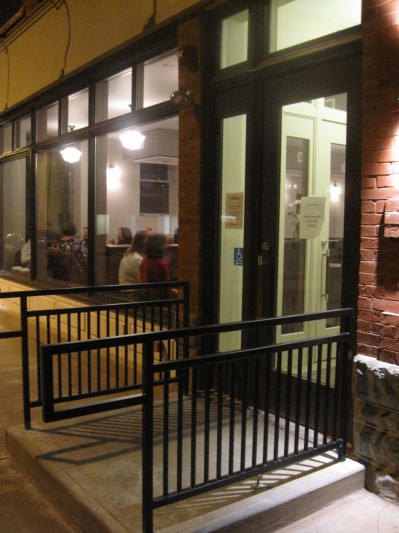 Park Bruges
www.pointbrugge.com
5801 Bryant St
Pittsburgh, PA 15206
(412) 661-3334
Park Bruges, you might notice, uses a different spelling of "Bruges;" that would be the French spelling instead of the Flemish "Brugge" variant. The reported plan is to point their Highland Park outpost in the direction of Belgium's French community and leave Point Breeze location with all of its Flemish tendencies in tact. Like the original, Park Bruges still serves up a quality beer list of mostly Belgian bottles with a relatively small Belgian-focused draft list and a few American craft options for those who want it. In other words, it's the Highland Park destination I've been waiting for.
Not that any of the existing highland park destinations is at all bad.
Modern, casual, and still small. I admit it: I don't go to Point Brugge nearly as often as I should. My friends say the Park variant is a little larger, but I'm not sure I buy it. They're both relatively small and both jam-packed—even on a week night. Park Bruges has a decidedly different exterior: a big sidewalk-level window opens up the whole restaurant to outside onlookers, but otherwise, the exterior is fairly non-descript. I had to get pretty close before I was even certain that I had found the right restaurant.
Once you get inside, the setting is fairly bright—much more so than Point Brugge. A medium-sized bar lines the right wall with tables occupying the remaining thin strip of a restaurant. I went on a Wednesday night about 2 weeks after they opened and the place was reasonably packed. I had to wait about 15 minutes for a table, which isn't all that bad on the Point Brugge scale. At least we know the business is doing well.
Belgian bottles and then some. The beer list is actually fairly large—but almost entirely focussed on bottles. There are only 6-8 taps, and there doesn't seem to be any effort to list them on the menu. You really just have to walk up to the bar and look. The bottle list, on the other hand, is well published (see above). There's a printed list on every table, and it's filled with a wide assortment of Belgian options. The list is segmented by style with Belgians up front and a combination of American craft options and imports starting beyond the fold. I was actually fairly surprised to see that they had 12 oz. version of many Belgians that typically come in larger bottles—including the Saison Dupont that I ordered.
Simple menu with a few veggie options. The menu is relatively small—just two pages. On the front, you find appetizers and a few salads; on the back, entrees and sandwiches. In terms of veggie options, they serve a house-made veggie burger and a vegetable-based ratatoullie farfalle. On the appetizer list, they have a few more options—most notably the Organic Pheonix Tofu: napa cabbage and tofu with a soy-ginger sauce and peanut garnish. In terms of poutine, they serve up a "classic montreal" version with no added meat, but it's still drenched in gravy and hence, not so vegetarian.
Poutine. When I went, I ordered a few different items—starting with the much talked-about poutine. The poutine was…interesting. Thin, but not crispy fries resting in a wide bowl atop a puddle of gravy—all topped with cheese curds. Cheese curds, you say? Yes. That would be the solid portion of curds and whey: a kind of proto-cheese before any sort of aging. By virtue of the gravy, this definitely wasn't a vegetarian dish but I wanted to sample to see what the dish was all about. I've heard some comment that the fries different from those at Point Brugge. According to First Bites, it's true: they're intentionally thinner to accommodate the poutine.
The poutine honestly wasn't nearly the monstrosity I imagined: the cheese curds were applied somewhat lightly, and the fries certainly weren't drenched in gravy. Instead, the gravy just happened to be floating below the fries in case you wanted to take one of them in for a more extensive dip. If you're not strictly veg, I would recommend giving it a try—if for no other reason than to impress your Canadian friends.
A portabello substitute of a salad. I didn't want to mound carbs on top of carbs, so I was aiming for a salad. Of the two entree salads, one featured fruit and the other featured steak. Not being a fan of fruit on my salad, I opted for the steak—though with a request that they might substitute portobello. My server took the request without issue and brought out a beautiful salad that made it look like portobello was the default option. I was impressed.
Beyond appearance, the salad was outstanding. Caramelized onions, home fries, blue cheese, tossed very lightly in a champagne vinaigrette. The lettuce was fresh, and everything was well in balance. I'd say it was one of the better salads I've had in Pittsburgh. My housemate and dining companion, Brett, like fruit on his salad. He ordered the spinach salad with strawberries and pears and seemed to be quite happy with the results as well.
I'm an enormous fan of Park Bruges. In every aspect that I care about, they delivered. The service was attentive and friendly, the atmosphere was casual and easy-going, the beer list was superb, and the food was well presented. If you're looking for good quality Franco-Belgian cuisine—or even if you just want to try some poutine, you definitely need to head over to Park Bruges and try the place out. I'd even go so far as to rating it as a must-try kind of place.
Tags: good-beer, highland-park, must-try, veggie-okay
7 Responses to "Review: Park Bruges"
Leave a Reply