Posted by mike | Filed under Reviews
I firmly believe that a good staff makes a restaurant. Front of the house employees play a big role in defining the overall atmosphere, and — for me — atmosphere is really what makes or breaks a dining experience. One even hopes that it reflects the chef's or owner's sentiments. That's not to say food isn't important. It is. My argument is really that good service can overcome average food; even the best food can't overcome a restaurant staff that simply doesn't have their heart in the game.
Don't think for a minute that I'm saying anything negative about the food at E2. The restaurant's various constructions package amazing flavors in a beautifully rustic package. I just think it's worth pointing out that there's a certain quality to the staff at E2 that makes the restaurant stand out. A certain attitude, really. They all carry a free spirit and a fun attitude that makes a dining experience all the more pleasant.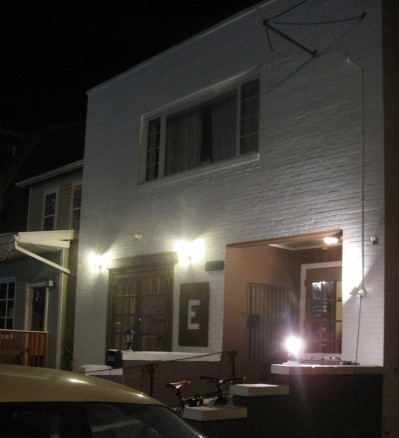 E2 (think Enrico's 2)
e2pittsburgh.com
5904 Bryant Street
Pittsburgh, PA 15206
(412) 441-1200
The restaurant, an outpost of the Enrico Biscotti Company, opened about a year ago in Highland Park — starting with weekend brunch and dinner 4 days a week and eventually expanding dinner all week long. Under the culinary direction of chef Kate Romane, the restaurant churns out what I would call rustic Italian cuisine. I'm guessing the space was an old house in a former life, with standard seating limited to a small dining room on the first floor. Both the bathrooms and a fairly large private event area are tucked downstairs in the basement.
They avoid self-application of any label, but I would say the place falls squarely into what I consider casual fine dining: fantastic food from a passionate chef served in a comfortable and unpretentious environment. During brunch you'll find the only copy of the menu posted on a wall-sized chalk board in the upstairs dining room. During dinner, they use the chalk board for "OMGs" (appetizers) an pass out a paper menu with the day's selection of dinner options. With a menu as dynamic as E2′s, it's hard to imagine any other format.
Modest but inviting. My first visit to Enrico's was after dark this winter, which made the place a bit hard to find. If I had been driving by, I might have even missed it. The restaurant's exterior is modest — noted as a restaurant primarily by a self-standing sign out front and a big 'E' painted on the front wall. Inside, the lighting is fairly bright, which makes for some pretty good photos. From the main entrance, the dining room is through a door on the left and the basement is just down the wide stairwell straight ahead. Unless you've arranged for a private event, you'll probably be eating in the dining room.
E2′s rustic feel caries through to the dining room. Filled with small tables, the walls are spotted with sporadic black and white photos — none large enough to be viewed from too far away. A long wooden booth runs the course of the far wall and serves as seating for the back row of tables. Beyond the tables, every other seat takes the form of a wooden chair. About the only thing in the room likely to grab your attention is the chalk board menu, which lists appetizers or brunch items depending on when you visit.
A write-up in the Trib calls the flowers at each table a little droopy, and I would call that assessment at least partially accurate. In my visits, I've seen a full spectrum from droopy to fresh.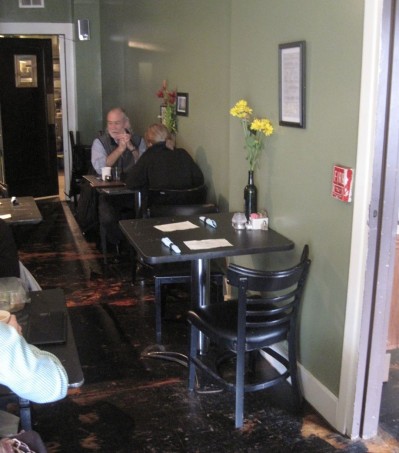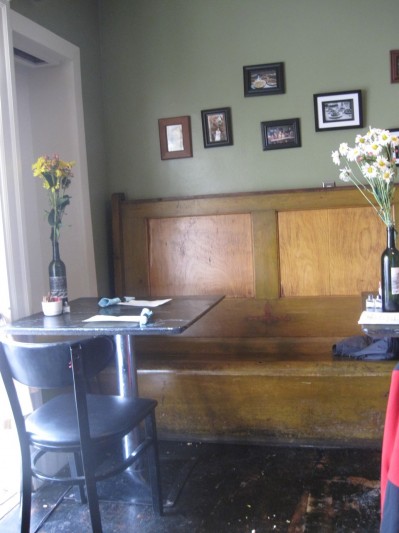 More on that outstanding staff. At first I struggled to explain why I'm such a big fan of the E2 staff. They're fun and completely unpretentious, but that's not quite it. They're attentive and helpful, but that's really just their job. Really, I think my appreciation flows from their authenticity. You can kick off a playful conversation with just about any of them, and they give an impression of really wanting to be friendly and helpful — because they want to, not because they have to.
By way of an example, I went for brunch a few weeks back and had to wait a few minutes for a table. When one staffer saw us standing upstairs waiting, we were invited to go hang out downstairs. When another person saw that we were still standing downstairs, she offered up some seats in the private event area. When another employee showed up and started working to set up some music, she offered us coffee and joked around with us about breaking into the wine sitting on the other side of the bar. Every last employee stopped to make sure we were comfortable and felt welcome — even through they were each scrambling to attend to their primary tasks on a busy Sunday morning.
Thoughtful recipes, well-executed. Anyone who has taken the Enrico Biscotti bread-making class knows that Larry Lagattuta cares about Italy's cultural heritage. When you enroll in the bread class, you can expect a vast breakfast of unpretentious comfort food all executed with skill, passion, and top notch ingredients. When you visit E2, you have the opportunity to enjoy that very same experience — six nights a week.
The menu is extremely dynamic, but a few themes seem to be consistent. For dinner, you can expect the options to include a varied assortment of pasta options, meatballs, a few seafood preparations, a couple of salads, and (of course) some beans and greens. For brunch, you can expect a polenta option, a few different omlettes, and a handful of creative options that you probably won't find at your typical brunch destinations. E2 also offers a few different fried dough formats into the mix for anyone wanting to take that route. I haven't tried them, but I can guarantee any of the options is a better caloric investment than your average doughnut (and certainly more worthwhile than your average donut).
Reasonable respect for vegetarians. The primary focus seems to be quality, so the menu is relatively agnostic to meat versus vegetable. Calling the menu vegetarian-leaning would be a stretch, but they typically list more vegetarian options than most. With salads viewed as an introductory course rather than an entree, they tend to include a small set of interesting accents rather than any meat. They're big enough to share or use as a light vegetarian dinner if you're struggling to find another option.
When I went with the FoodBurgh Meetup, our waitress suggested that we just order the entire menu, which was discounted by about $20 when ordered as a complete package. If you have a big enough group, I highly recommend that option. If you want more specific (and up-to-date) menu details, you can find a complete list on the E2
site.
Having been through the whole menu, I could spend a long time discussing all the food. Instead, I'll focus on my most recent visit: for brunch when my parents were in town. For photos from my first visit you can check out the associated album on Flickr.
Polenta with roasted red pepper sauce. For my brunch outing, I ordered the polenta topped with a fried egg and covered with a roasted red pepper sauce. The ensemble was excellent. The thick layer of polenta was flavorful but surprisingly light — not the least bit dense. I was concerned the roasted pepper might make the sauce overly sweet; instead, it carried a pleasant tart finish — possibly induced by vinegar or some amount of tomato sauce. The polenta and sauce alone would have been good but the ensemble needed something else. The fried egg hidden between sauce and polenta provided just the needed addition&mdashwith texture and flavor from the mildly buttery white and a burst of contrasting flavor from a soft runny yolk.
My mother's fried egg over potato hash. This was a daily special&mdashnot from the standard menu. My mother and I tend to have similar taste in food, so going out to eat with my parents typically involves debate over the two most interesting options followed by a decision of who orders which. This was no different, so my mother ended up ordering my second choice. A fried egg overtop a potato and onion hash that had been tossed in a buttery white wine sauce. I wouldn't exactly call this a healthy option, but it was definitely worth eating. The sauce was somewhat rich but applied with a light enough hand to prevent it from overpowering the dish. The egg added some protein to balance out the dish.
My father's capicola omelet with potatoes and salad. Not having the least bit of veggie-leaning tendencies, my father opted for a capicola-filled omelet that came pared with potatoes and a small salad. The omlette was definitely American in styling: thick with a substantial filling. The accompanying sides made for a huge breakfast but offered some nice contrast.
We didn't BYOB for breakfast. Though it wouldn't have been the first time I've gone out with my parents and ended up having a beer before noon, we didn't take advantage of the BYOB option. If you're heading out for dinner, then you really should. I've heard people complain about the relatively high corkage fee ($6), but I would claim that the fee is worth it. That's still less than the markup that you could expect if you bought the bottle there, and this is definitely the type restaurant where you want to sit around for a little while and enjoy a glass of wine or a good craft beer.
Given their Italian-leanings, the focus tends more toward wine. When I signed up for their first monthly E2 Din2, I was reminded to bring a bottle of wine. When I went with the FoodBurgh Meetup, I brought a few growlers from East End, and the best glassware they could provide took the form of 10-oz water glasses. I can't rightfully complain about that leaning, but it's something to note.
I like E2 — and, really, everything associated with Enrico. I like what they stand for, I like what they serve, and I like how they serve it. The menu can be heavy at times, but the options are sufficiently varied and sufficiently vegetarian-friendly to ensure that everyone will find something they like. If you're looking for something different — something that comes across as casual fine dining without trying to apply their own label, then I would say this is definitely a must-try type of place. You really owe it to yourself to stop in and enjoy.
Tags: Breakfast, byob, casual-fine-dining, highland-park, independent, must-try, newcomer, veggie-friendly
5 Responses to "Review: E2 ("E-Squared")"
Leave a Reply