Posted by mike | Filed under Beer, Commentary
Last week, I received an email message from someone in the planning stages of a new restaurant in the area. He reads this blog and had come to realize that I have some opinions when it comes to a good beer list. Not wanting his to be one of the places that I grumble about, he asked for some advice.
I was thrilled by the opportunity to have a positive impact on a new restaurant, so I pondered for a few days and eventually typed up some notes. By the time I was finished, I had a fairly lengthy message that I thought might be useful for other readers (and Googlers) as well.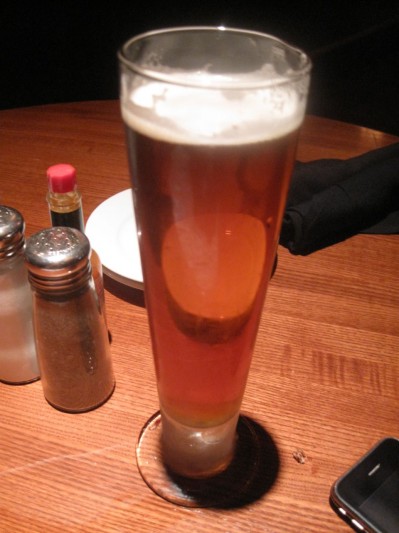 I'm not posting it here not because I claim to be an expert in the area—I'm certainly not. I can actually think of several far more qualified readers who will likely chime in to tell me where I'm wrong. Really, I have two reasons for posting. First, there might be other restauranteurs out there looking for similar advice; second, because I have no doubt that I'll be seeing some insightful comments in response. I have a feeling the comments will help turn my thoughts into something even more useful.
I realize some of you could care less about beer. If that's you, then just ignore this post and start looking forward to the E2 post that I'm working on next.
Re: Suggestions for our beer list
NOTE: The restaurant in question plans to serve authentic Mexican cuisine. Some of my advice is directly purely at that theme, but most of it probably applies anywhere. He also didn't want to have a huge beer list. This isn't going to be Bocktown or even Mad Mex.
As promised, I collected some of my thoughts on beer list. I started with four pieces of general guidance and finished up with a specific list to use as a starting point. I'm hoping that will be more useful than just giving you a single list without much comment.
1. Focus on a few solid options.
I completely understand that you're not looking to have 18 different beers on tap. There are actually a couple restaurants in the area that have been doing very well with just 4 taps (Yo Rita and Salt of the Earth come to mind). The key is to spread that selection across several style categories and keep things changing.
I think an ideal number would be 6 taps: 1 reserved for a macro lager (e.g. Yeungling). I've come to terms with the fact that everyone needs to carry a macro lager or two because that's all some people drink. For a Mexican place, you could stretch to 2 macro lagers by including Negra Modelo (a half-decent macro-lager).
2. Keeping a dynamic draft list.
The beer lists that catch my attention are the ones that change over time. That gives me an incentive to head back to a restaurant to see what new stuff they have on tap. Changing a keg also makes for a good opportunity to post a notice to twitter/facebook–it's the kind of thing your fans will help spread if they particularly like the beer.
My basic advice here would be to keep your macro lagers constant, but rotate the other four taps on a regular basis.
3. Hit a wide variety of styles.
Different beer enthusiasts have different opinions and different favorite styles. When you only have a few different beers, it's really important to make sure that each one is from a different style.
A few of the more significant categories…
The amber and dark lager categories work especially well with Mexican cuisine because much of Mexico's historic brewing tradition was brought by German immigrants. For example, Negra Modella is actually a decent example of a German Dunkel.
4. Connect with the local brewers
There's a big push for staying local these days, and beer is no exception. Pittsburgh (and more generally PA) has a number of great local/regional brewers. If you carry something from the local brewers, many will make a point to tell their fans. They want to sell their beer just as much as you do.
The most notable local brewer is probably East End Brewing, but there are others out there to keep in mind as well.
Some local Pittsburgh brewers:
Some well-liked brewers in the region:
5. A good list to start with
To give an example, I'll throw out the beer list that I would use if I were starting a Mexican restaurant with 6 taps.
Suggested Drafts:
(option 1-prime, for once your up and running: Penn Dark, which is a better example of a dark lager)
If you wanted to keep a few bottles around, you could appease a few other common requests. I think things like Corona and other typical Mexican requests might help out with the portion of your audience looking for that sort of thing.
NOTE: I should point out here that the self-proclaimed beer novice tipped his hand just a little bit here and threw out some great additional ideas for Mexican options: Bohemia and Nochebuena. Both would probably be fantastic additions for the bottle list if he can't get them in kegs. If he can get by without stooping to the level of Corona, then I'd be thrilled.
…
Anyway, those are my thoughts. Others may have different opinions, so I tried to keep my high level advice general. If have questions or ever want a few more specific recommendations, I'd be happy to help out.
–Mike
Tags: good-beer
8 Responses to "Draft list for a beer novice"
Leave a Reply