Posted by mike | Filed under Reviews
Everybody has been talking about Salt of the Earth. Usually, I try to focus on places that don't get enough attention, so I'm somewhat hesitant to post something about Salt…but I can't resist.
If you haven't been paying attention, Salt of the Earth is the work of Kevin Sousa. He set out to open his own restaurant an eternity ago, and worked to make it a reality while moonlighting at Yo Rita—turning the place into a notable South Side destination. For the past several months, he's been away from Yo Rita and making serious progress on Salt of the Earth. The whole time, he's been informing the world of his progress on Twitter and the restaurant's blog. It's working: he's been generating a huge amount of interest among all types of local foodies.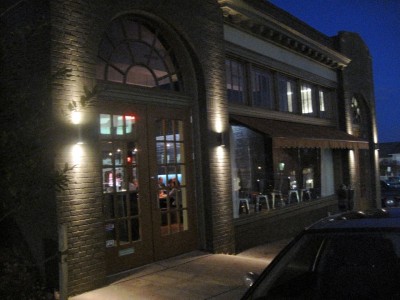 Salt of the Earth
www.saltpgh.com
5523 Penn Ave
Pittsburgh, PA 15206
(412) 441-7258
If you remember my Yo Rita post, you might also remember my feelings on Kevin. In the past, he has made some negative comments about food bloggers without a culinary background and really maintained tough guy persona that rubbed me the wrong way. At the same time, he continues to churn out restaurants I love—leaving me unsure of what to think.
Lately, I've even been told his "tough guy" persona was really only a thin veil—that he's actually an incredibly nice guy. That nice guy seems to come out a bit stronger in his Salt communications, too. Kevin is embracing a bit of a softer image.
What is Salt of the Earth? The basic idea is closely related to the general theme of casual fine dining: provide great food and a good experience without the pretenses of traditional fine dining. If you read FoodBurgh often, then you know that's right up my ally. As much as I like the unstuffy atmosphere, some others might praise the reasonable price. You get food representative of fine dining with a price just a touch above an every-day casual dining establishment. Wins all around. (more)
Tags: east-liberty, good-beer, independent, must-try, newcomer, non-veg-meal, veggie-friendly
Posted by mike | Filed under Reviews
From the name, you might think that Brgr is the last place that I would ever want to go. You would be wrong. It's true, the place is highly meat-focused and healthy is the last thing on the menu. Only one of their burgers fits a vegetarian slant, but I do like what they're going for. At some level, Brgr is just an extended Spoon Lounge—though calling it that is really a huge understatement. It feels like a completely different place—including a separate door.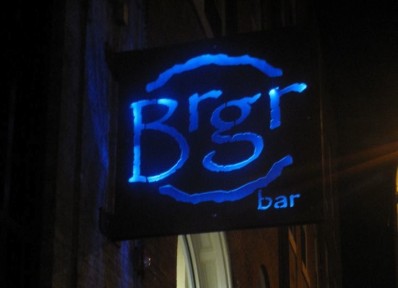 Brgr (East Liberty)
www.spoonpgh.com/lounge.php
5997 Penn Circle South
Pittsburgh, PA 15206
(412) 363-2333
As much as I liked the amazing food and quality wait staff at Spoon, Brgr's parent restaurant felt just a little stuffy and uncomfortable. Brgr, on the other hand, seems to aim for a highly informal feel. That goes a long way toward meeting my own preference: a stress free, highly casual place to relax over good food and drink. Of course, the menu offers a few salads—but that's not why you should go there. (more)
Tags: east-liberty, good-beer, newcomer, veggie-okay, worth-a-shot
Posted by mike | Filed under Community
If you can think of at least one local charity you would like to support, there's no better day to show your love than today (Wednesday, October 13). Today, is the Pittsburgh Foundation's Day of Giving. Last year, they put up a pool of money and matched every donation dollar-for-dollar until they ran out. That was a great idea, except they ran out of money fairly early in the morning. This year, they did some major restructuring.

The basic plan this year is similar, but better suited to coping with the immense generosity of our region. The hours are extended, and everyone's donation has an impact.
How does it work? The Pittsburgh Foundation frees up $500,000 dollars for the purpose of matching your donations. You can log on to pittsburghgives.com and donate to one or more charities of your choosing any time between midnight and 11:59pm on October 13. You pick the charities and you pick the amount. After  the event winds down that $500,000 is divided proportionally based on the relative magnitude of contribution to each charity.
Think of it this way. If the Great Pittsburgh Community Food Bank receives 5% of the donations, then they get the donations plus $25,000 from the Pittsburgh Foundation. Hint hint.
Posted by mike | Filed under Community
Last night, a handful of food bloggers assembled over dinner and beer at Bocktown. I called it a Pittsburgh Food Blogger Meetup and threw the group up on meetup.com—mostly because it was a convenient tool for managing RSVPs and membership. Thanks to Lauren (@Burghilicious) and @iheartpgh, the event was even fairly well publicized. Even though we had only a small number of bloggers last night, we now have 16 local food bloggers on the site.
My hope is that next time I throw one of these together, I'll have more input on scheduling and a few more participants. For this first outing, we hit a bad night for several people and ended up with 6 people—representing only 4 blogs. That sounds small, but it was definitely a fun crowd. Besides, every tradition has to start out somewhere. (more)
Tags: good-beer, meetup, pittsburgh-south, sustainable, veggie-friendly
Posted by mike | Filed under Reviews
While the rest of the universe has been going crazy over Salt of the Earth, I decided to switch it up. I gathered up some friends and made my way over to Spoon. I can go to Salt any time (and will soon). Spoon just happened to jump onto my list when I bumped into an employee just a few weeks before they opened. Between the name and a quick description of the goal, they had my attention.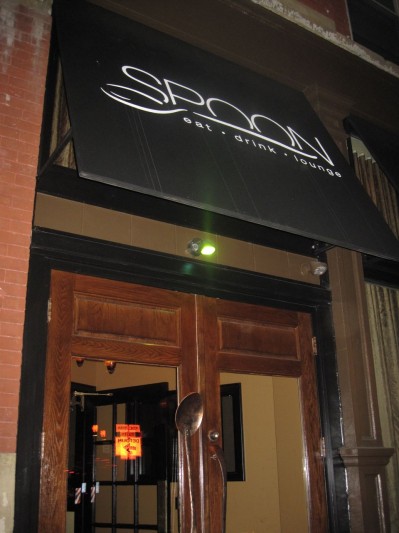 Spoon
www.spoonpgh.com
East Liberty
134 South Highland Avenue
Pittsburgh, PA 15206
(412) 362-6001
Spoon had been explained to me as a new entrant to the casual dining scene with a strong focus on simplicity and approachability. There's actually a little more to the place than just simplicity: they also seem to embrace local sourcing, a seasonally changing menu, and a fairly well-rounded beer list—especially for their upscale genre. I'm not sure I completely agree with the "casual dining" label, but the remaining themes all ring true. In that sense, it's exactly the kind of place that I'm typically drawn too—just a step up in both price and general "stuffiness" from where I normally like to be.
Don't get me wrong, I'm a fan (a big one)—though primarily in a special occasion context. I don't think they meet the mark of "everyday hang," but I do think it's the kind of place that any seasoned foodie really ought to try. (more)
Tags: east-liberty, independent, must-try, newcomer, veggie-okay
Posted by mike | Filed under Commentary, Reviews
There's a new hotel downtown, The Fairmont, and I only knew about it because of the restaurant: Habitat. I suppose that's the sad reality of FoodBurgh. Not too long ago, they invited me to a preview event for their Fall menu—and I actually took them up on it. I say "actually," because Habitat doesn't fall into the restaurant category that I tend to cover here on the blog. I focus more on small local establishments in a low to moderate price range—because many of them could use a little bit more attention. Habitat is a large expensive place that has been getting plenty of attention already.
Why am I posting? My gut reaction to Habitat is split. On one hand, the marketing material claims a focus on local sourcing; on the other hand, many of the ingredients on their menu are obviously not from around here: Scottish salmon, Maine lobster, maryland crab, yellowfin (a.k.a., "ahi") tuna, and even freakin' octopus. With ingredients like that, one might think they're not even trying. Despite the menu versus marketing disparity, I've actually grown to be supportive—and not just because they served me an amazing free dinner. I'm hoping I can use this post to explain why.
DISCLAIMER: The Fairmont Hotel invited me to this preview event, served me cocktails and wine, and bombarded me with a flowing stream of samples from a beautiful open kitchen. I didn't have to pay a thing. I've also never actually sat through a traditional dining experience. What I present in this post are my own opinions, but readers have every right to take them with whatever size grain of salt they deem necessary.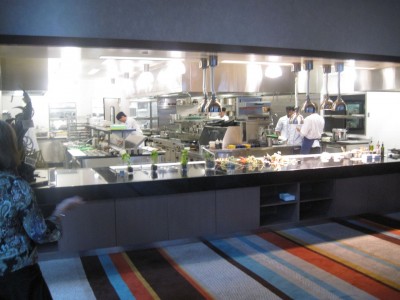 Habitat: Internationally inspired, locally unique.
www.habitatrestaurant.com
510 Market Street
Pittsburgh, PA 15222
(412) 773-8848
Some background on Habitat. Habitat just opened this year—coinciding with the completion and eventual opening of the Fairmont Pittsburgh in the new building at 3 PNC Plaza. Located in the second floor of the hotel, it features a well-regarded Chef (Andrew Morrison) and a menu focusing on international cuisine. As I noted earlier, Morrison tries try to construct those international dishes with as many local ingredients as possible. There's also a bar in the downstairs lobby, Andy's, but it's actually a separate entity—though still under the Fairmont's umbrella. For the time being, Andy's is even playing host to some local jazz each week from Wednesday through Saturday. (more)
Tags: downtown, non-veg-meal, worth-a-shot
Posted by mike | Filed under Reviews
A few weeks back, a member of the meetup posted a suggestion for an event at La Casa. I had heard of the place in passing and was always a little interested but hadn't ever made it out there. That made for good meetup material, so—for the second time in a single month—I scheduled a meetup without knowing what I was getting into. Thankfully, it worked out (both this time and last). La Casa served up good food in a comfortable environment—and even did a great job of accommodating the meetup.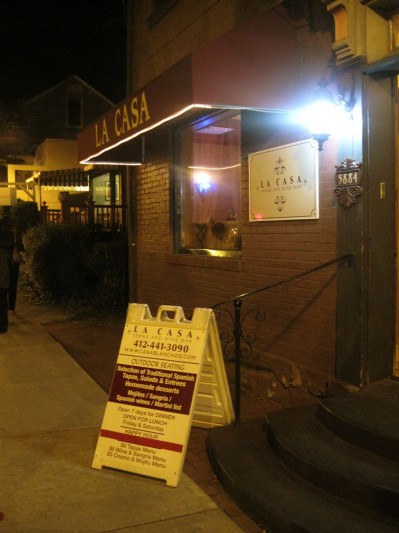 Review: La Casa
www.casablanca212.com
5884 Ellsworth Ave
Pittsburgh, PA 15232
(412) 441-3090
La Casa is one of those places with a bit of backstory. According to the Tribune-Review, owner/executive chef Omar Mediouni ran a restaurant downtown just a few years ago (in 2003). Located in the downtown cultural district, that venture was successful but a lot larger than the kind of place that Omar really wanted to be. When he caught word of a smaller space opening up he jumped at it and opened La Casa in 2005. Not to long afterward, China Millman Elizabeth Downer reviewed them for the Post-Gazette. Digging a little further yet, China Millman just pointed out in her blog that he recently opened a restaurant just up the street: Brasserie 33. It seems Omar has a mix of Moracan, French, and Spanish roots—his various ventures all play on different aspects of that background. (more)
Tags: ethnic, independent, must-try, outdoor-seating, shadyside, veggie-okay, wine-spot
Posted by mike | Filed under Reviews
I have to admit, I didn't expect much when I noticed Gran Agave popping up in the big box-oriented Waterfront area. After all, the vast majority of dining options in that area are big chains. Sure, there are some less common chains with pretty good food, but it's basically the land of the average American bar and grill (not to mention fast food). Then I started to hear people talk about Gran Agave—and they said good things. Readers recommended it, even. Now that I actually stop to think about it, there have been a few local places peppering up in that area. I'm not sure whether that's by design or just organic growth, but I'll take it either way.
Because I had heard all the positive comments, I took a chance and scheduled a FoodBurgh meetup—before I had ever tried the the place. That turned out to be a great meetup, but a big group always tends to distract me from getting a good feel for a new place; I needed another visit before I could really write something about them. So, on a Wednesday night whim, I had another go—and even had a chance to talk with the GM (and owner?). It's amazing what an overactive camera can lead to. ;-)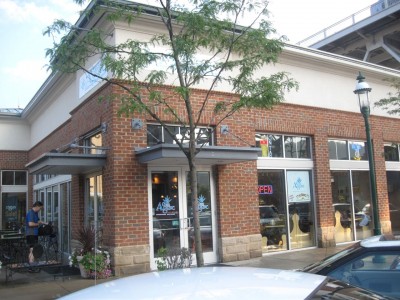 Gran Agave
www.yelp.com/biz/gran-agave-homestead
(unless you have a better link)
152 East Bridge Street
Homestead, PA 15120
(412) 461-5000
Gran Agave is a fairly similar to several of the other local Mexican restaurants and regional chains. It fills a similar space to Cuzamil or maybe the West View El Campesino—it just happens to be tucked into the depths of the Waterfront. They serve up some familiar options, but I also found a few that sparked my interest: vegetarian sopes, mole poblano, and camerones rancheros. Like many such establishments, there's a dedicated vegetarian section on the menu. The cheese and bean slant of the veggie options was somewhat disappointing, but they do list a vegetarian fajita that sounds highly veggie-focussed.
Regardless of the sparse veggie options, I was fairly pleased. Mexican in general isn't exactly my favorite kind of food but what I did eat at Gran Agave was well presented and full of flavor. The interior is clean and just busy enough to be interesting. The beer list was unsurprisingly limited to Mexican imports but draft Negra Modelo is actually a pretty good option. (more)
Tags: independent, newcomer, non-veg-meal, veggie-okay, waterfront, worth-a-shot
Posted by mike | Filed under Reviews
A few weekends back, I made my way out to a destination I'd been eyeing up for a while: Reyna's Taco Shack. If you've been in The Strip in the past, you might remember varying extents of food stands hanging out in front of Reyna Foods. If my sources are correct, then the current iteration is different—a step up from the salsa and chips you might have found in the past.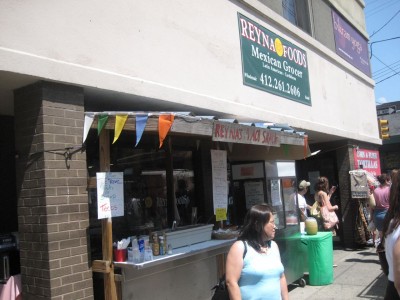 Reyna's Taco Shack
www.yelp.com/biz/reyna-foods-pittsburgh
(this guy really need a web site)
2023 Penn Ave
Pittsburgh, PA 15222
412-261-2606
Operated 7 days a week by former Taco Loco owner, Edgar Alvarez, I'd like to think of the Taco Shack as a separate entity from Reyna's. As I've heard the story, Alvarez shifted the Taco Loco location a few years ago into a space shared with a Carson Street bar. That was a far better location, but the union worked out poorly enough that Edgar left (though I'm unsure of the particulars). While he is in the process of locating the right space for his next restaurant, Alvarez is manning Pittsburgh's one and only authentic taco stand. (more)
Tags: independent, must-try, strip-district
Posted by mike | Filed under Reviews
This one was a great find. I had never before even heard of Smiling Banana Leaf, but then randomly noticed a reference to the place in a Twitter feed. I can't even remember who posted it, but I'm glad it caught my attention. I did some research, found some reviews, and decided I definitely needed to give them a try. Within a week of hearing of the place, I even had a chance to make it out and enjoy some exceptional Thai food in an unassuming little place.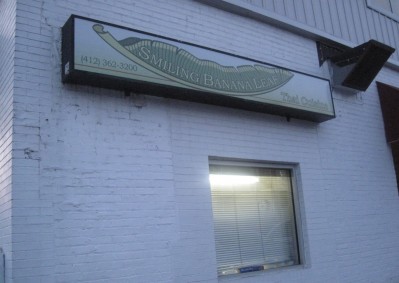 Smiling Banana Leaf (Highland Park)
www.smilingbananaleaf.com
5901 Bryant St
Pittsburgh, PA 15206
(412) 362-3200
Smiling Banana Leaf is a tiny little Thai restaurant in a location that's easy to miss. It's an unassuming little BYOB establishment with a clean look and excellent food. My date commented that it almost reminded her of the place you might find tucked into a residential area in Thailand (though, sadly, I can't corroborate). I'm not certain about history or when it opened, but I'm guessing the place is well known to at least a few: the place was packed on the evening I went out. Then again, it's small enough that filling the place doesn't take all that much.
Tucked unassumingly into Highland Park near the The Union Project, it's a little hard to find if you don't know what to look for. I drove right past and walked right up to it before I was sure I had the right place. Even after I noticed the sign (hidden on the side of the building), I still wasn't quite sure where to find the door. The only indication that the place was open was a single couple dining on a single outdoor table. (more)
Tags: byob, highland-park, independent, must-try, veggie-friendly